The pandemic has not been good for the restaurant industry, including for Jollibee. Many small businesses in the sector are struggling and even some of the bigger brands couldn't avoid bankruptcy. Despite that, the pandemic has allowed some fast-food chains to remain competitive. This is because their low price allows them to thrive. At the same time, the drive-through business is booming. In July, drive-thru visits increased 13% in the US. 
The financial crisis of 2008 showed us that most fast food restaurant chains were able to handle the downturn very well. Some were even able to grow. McDonald's (NYSE: MCD) saw an increase of same-store sales globally for 55 consecutive months.
Jollibee Foods Corporation (OTC: JBFCY) is a Filipino restaurant chain. Operating since 1975 and with a global presence across multiple continents. Jollibee is mainly present in the Philippines where they have been dominating the local market. The company owns several brands and has also been a franchisee for well-known brands like Burger King and Dunkin' Donuts. In total Jollibee operates 17 brands.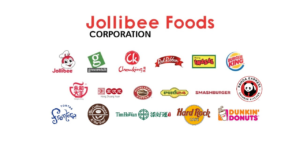 Source: Youtube/Author
Jollibee's Brands
Jollibee operates restaurants under their own brand and also owns some well-known franchises. In total, the company operated 5,813 restaurants as of September 2020. At the end of 2019, the company held  5,971  restaurants under different brands. Due to the pandemic, 158 locations were forced to close. A decrease of 2.6% in the number of locations.
Fast Food Market
Jollibee is the largest Asian restaurant chain. The company currently has 5,813 locations across the globe. Predominantly in the Asian region. The global fast-food market is expected to be worth $931 billion by 2027. Growing at a CAGR of 4.6% from 2020 to 2027. Jollibee's management intends to become one of the top 5 restaurant chains across the world.
Source: ABA
Filipino Market
For a number of years, Jollibee has sustained fierce competition in its local market. Many of the big players like McDonald's and KFC have hardly gained any market share. Jollibee has been able to maintain its dominant position. This is key to the company's success. As the local Filipino market provides most of the revenue and earnings. Nearly 56% of the company's locations are in the Philippines. Allowing the company to further expand its operations globally. Reducing its dependence on the local Filipino market.
Jollibee also owns Greenwich and Chowking, which have a considerable market share in the Philippines.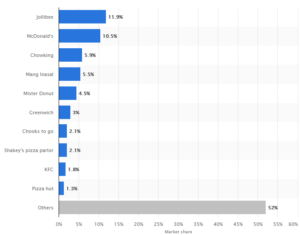 Source: Statista
The Filipino QSR market was estimated at $4.7 billion in 2019. It is expected to hit $7.9 billion in 2026, representing a CAGR of 6.9%. 
Jollibee's market dominance is so impressive that its total locations are more than the next two competitors combined. With the oversaturation of the local Filipino market. Jollibee seeks to expand operations to continually grow.
Jollibee Acquisitions
Management's growth strategy is mainly driven by acquisitions. Looking for companies with a strong superior product. While at the same time studying their ability to scale and grow. 
US Acquisitions
The US fast food and quick service restaurant market was estimated to be worth $257.19 billion. Jollibee's management has targeted the US as one of their main expansion targets. Jollibee wants to take a bite of the US market, which is expected to grow at a compound annual growth rate (CAGR) of 5.1% from 2020 to 2027.
Source: Grandviewresearch
Smashburger
JFC initially acquired a 40% stake in Smashburger in 2015 for $134 million. Valuing the company back then at $335 million. At the beginning of 2018, the JFC acquired an additional 45% stake for $100 million. Later in 2018, they completed the acquisition of Smashburger, paying $10 million for the remaining 15% stake. Paying a total of $244 million for Smashburger which had 360 owned and franchised locations at the time. An average of $677,000 per location seems to be a bargain. It should also be noted the way JFC's management conducted the acquisition. Not only were they able to pay a relatively small price per location. But each time they increased their stake, the valuation kept going down.
A study was conducted by Market Force Information with the intent to understand consumer preferences in the burger QSR segment. Shows how good Smashburger is compared to its competitors. Although the company does not rank the highest on all of the study's categories. It shows a strong brand presence that resonates with quality and healthy eating options.
Source: Fox
The customers surveyed agreed that Smashburger has the healthiest options. The company also ranked 4th in the following categories: food quality, overall cleanliness, staff friendliness, and atmosphere. Smashburger is definitely not the number one burger chain in the US. But the company has quality service and products that can differentiate in the highly competitive QSR industry. So much so that its brand loyalty is higher than some of its bigger competitors with thousands of locations across the country. 
Source: Fox

Tortas Frontera
Similarly to what happened with Smashburger. JFC targeted Tortas Frontera, a Mexican QSR chain focusing on Mexican food. In 2018 Jollibee acquired a 47% stake in the chain. For $12.4 million. The Mexican restaurant market in the US is worth approximately $45 billion. Jollibee's 47% stake in Tortas Frontera allows the company to get exposure to that. As well as potentially position themselves to further increase their stake. Just like they did with Smashburger.
The Coffee Bean & Tea Leaf
In 2019, Jollibee announced the acquisition of The Coffee Bean & Tea Leaf. The chain, which has over 1,180 locations in the US and worldwide was acquired for $350 million. Jollibee committed to investing another $100 million.
Jollibee's Acquisitions in China
There are a number of reasons why acquisitions may not be the best way for a company to achieve growth. Jollibee's management has enough reasons to disagree. Even the acquisitions that don't go as planned still allow the company to make a profit. As is the case with Guangxi San Pin Wang. Back in 2012, Jollibee acquired a majority stake in the Chinese restaurant chain.
At the time it cost the company 30 million renminbi or PHP 203 million. As part of the deal, Jollibee agreed to further invest 20 million renminbi or PHP 135 million, with its joint venture partner. The 55% stake cost Jollibee 41 million renminbi or PHP 277.25 million. JFC would later sell its stake for 90 million renminbi or PHP650 in 2016. At the time management intended to focus on its Yonghe King business. Despite not going as planned, management was still able to book a hefty profit worth 49 million renminbi. 

Hong Zhuang Yuan 
In 2008 Jollibee acquired Hong Zhuang Yuan. A restaurant chain in China, operating mainly in Beijing that focuses on congee. Congee is a traditional Chinese dish, a type of rice porridge. At the time the company had no debt and annual sales for the year were estimated at PHP 1.3 billion. Jollibee ended up paying a total of PHP 2.5 billion and its 37 locations. At the end of 2019, there were 42 Hong Zhuang Yuan locations across China. Eventually, due to the pandemic, Jollibee's management decided to cut that to 30 locations.
JFC's acquisitions allow the company to stretch its operations globally. Owning high-quality brands and getting acquainted with consumer preferences in different locations. Acquisitions aren't always the best option for companies to grow. But it must be noted that JFC has been able to acquire very interesting brands, with high-quality products that can distinguish themselves from the competition. The prices paid for the acquisitions have been low. Giving the company a margin of safety in case things don't go as planned. Management is continually exploring new acquisition targets.
Jollibee Has Worldwide Presence
"
Source: Author
Expansion
One metric I often use to assess management's competence is to analyze their plans and intentions. And see how they can carry it out in the future. This allows you as an investor to understand if management is - on one hand planning things realistically and at the same, it is able to execute.
Due to the large dominant position, Jollibee has in the Filipino market. Management has chosen to expand globally, focusing on countries and regions with large Filipino communities. According to the Filipino Department of Foreign Affairs, the biggest Filipino communities outside the Philippines are located in the US, Saudi Arabia, and Canada.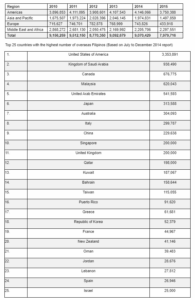 Source: DFA
This partially explains why Jollibees' management has reiterated their intention of expanding operations in the US and Canada. The data is over 5 years old, but it hasn't changed much until today. The US has over four million Filipinos or Filipino descendants. Distributed across different states as follows:
California:   1,653,167
Hawaii:  367,952
Texas:  204,192
Nevada:  168,200
Washington:  162,658
Florida:  158,254
Illinois:  156,121
New Jersey:  143,845
New York:  141,640
Virginia:  117,666
Source: Inquirer
Given the prevalence of Filipinos in California, Hawaii, and Texas. Jollibee has tried to adjust its expansion plan in the US. Focusing on opening new locations in states with bigger Filipino communities.
Los Angeles CA – 495,000
San Francisco, CA – 305,000
New York, NY – 241,000
Honolulu, HI – 211,000
San Diego, CA – 196,000
Chicago, IL – 137,000
Las Vegas, NV – 124,000
Riverside, CA – 120,000
San Jose, CA – 106,000
Seattle, WA – 101,000
Source: Amightylife
When we analyze the distribution of Filipino communities across the US. Jollibee has most of its locations in California. Given that over 1.6 million Filipinos live in the area.  With that in mind, there are still a number of regions and states where Jollibee can possibly expand to. 
Source: Author/Pewresearch
Jollibee Fundamental Analysis
Revenues have grown at a steady pace, increasing more than 3x in just ten years. The same can be said about its earnings, which nearly tripled from 2010 to 2018. With a slight decrease in 2019 that can be attributed to its acquisitions.
Source: Morningstar
Jollibee has been able to reward shareholders over the last 10 years. Management has been able to increase the dividend, reflecting the increase in net income and revenues.
Source: Morningstar
With a relatively conservative dividend policy, management has tried to maintain the payout ratio under 40%. This allows for capital to be deployed, so the company can continue its global expansion. It has also helped Jollibee to make the acquisitions it has made in the past.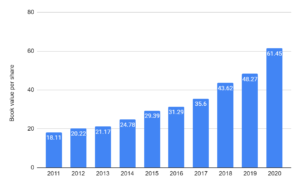 Source: Morningstar
Risks
Losing Market Share in the Philippines
Jollibee has been able to maintain its number one position within the Filipino market. But that doesn't guarantee that it will retain its dominance in the future. The competition in the QSR industry is fierce. New disruptors might come and steal market share.
Acquisitions
Acquisitions can be extremely tricky. There are many things that can go wrong. From the price paid to integration and after all of that is done there it might not be worth it. As the potential positive impact can be outweighed by the disadvantages and resources spent with the acquisition. I try to steer away from companies that cannot grow organically, in their local markets. And try to grow through acquisitions as it is often a sign that the company has reached its growth limit. Despite that Jollibee's management has been incisive when it comes to acquisitions. 

Dependence on the Filipino economy
Given that Jollibee has most of its operations in the Philippines. Jollibee has 3,247 locations across the Philippines under different brands. Comparing that with the 5,813 locations it has worldwide. The company is highly dependent on the Filipino economy doing well. As nearly 56% of its locations are in the Philippines, the company can be easily influenced by the economic conditions of the region. An economic downturn could affect sales and profitability. With this in mind and with management's intention to keep expanding globally. In the future, the company will be less and less dependent on the Filipino market. 
Philippines GDP
Source: World Bank
It should also be noted that since a large percentage of its revenues and earnings come from the Philippines, Jollibee is highly susceptible to any currency fluctuations.
Final Take
Jollibee is the largest Asian fast-food chain in the world. Its strong presence in the Filipino market allowed the company to consolidate its operations. There is still a lot of room to grow internationally. The strategic acquisitions the company has made over the years, might not be the best solution to expand its operations. 
Nonetheless, it is still too early to determine whether the Smashburger acquisition will be determinant for JFC's expansion. Given the price paid, Smashburger was at least fairly valued.
Jollibee has been on my watchlist for a while. The company has been growing revenues, earnings, and dividends in the past. Despite the constraints caused by the pandemic. Management has reacted accordingly and closed unprofitable locations, which can only strengthen the company's position. 
Jollibee's dominance in the Filipino market gives the company a strong base to expand globally. Vietnamese operations are also extremely competitive and show that the company is able to dominate various markets. I have been waiting for the right price to open a position.