Chinese crackdown on online poker has materially changed Boyaa's business.

Following the bribery charges, on its subsidiary and former CEO and founder, the stock price has collapsed.

The company still generated ~HK$114M of free cash flow in 2020, and it has a free cash flow yield of 34.5%.

Considering the risk/reward profile, Boyaa Interactive is a high-risk, contrarian bet that might pay off handsomely.
Boyaa Interactive International (HKEX:0434) is among the cheapest stocks in Hang Seng. Cheap also comes with risk, and the stock price has consistently declined since it reached its peak in 2014, following the IPO in late 2013. The company is well known for its gaming apps, which attract ~1.5M daily users.
Following an indictment of the company and its former CEO and founder for bribery by the Chinese authorities, Boyaa Interactive stock has continuously declined since then. Its recent decline has pushed the stock into deep value territory. Boyaa Interactive has no debt and just ~HK$335M in total liabilities. It also has ~HK$1.372B in term deposits and bank and cash balances. It still has ~HK$350.87M in restricted bank deposits, which is related to the lawsuit. The stock has a free cash flow yield of 34.5%, based on free cash flow in 2020. A very risky stock that might deliver great returns.
Overview
Boyaa Interactive focuses on card games, and board games apps. The apps are available for free to most users. Boyaa Interactive monetizes those apps by placing ads and offering premium versions of those apps to its users. Its app portfolio includes 12 games distributed in different languages across 32 total apps.
Boyaa was early in the game app space and launched its first game app in 2008, Texas Hold'em. The first-mover advantage allowed it to also be involved in the Boyaa Poker Tour, a yearly event that brings poker players together for tournaments. Boyaa Interactive also offers their games in the web version, although most of their users use the mobile versions.
Boyaa's apps
Boyaa's Texas Poker is its most popular app. Initially released in 2008, the app has slowly declined in popularity among English-speaking users. Despite continuously updating and trying to increase user retention, the popularity is continuously declining.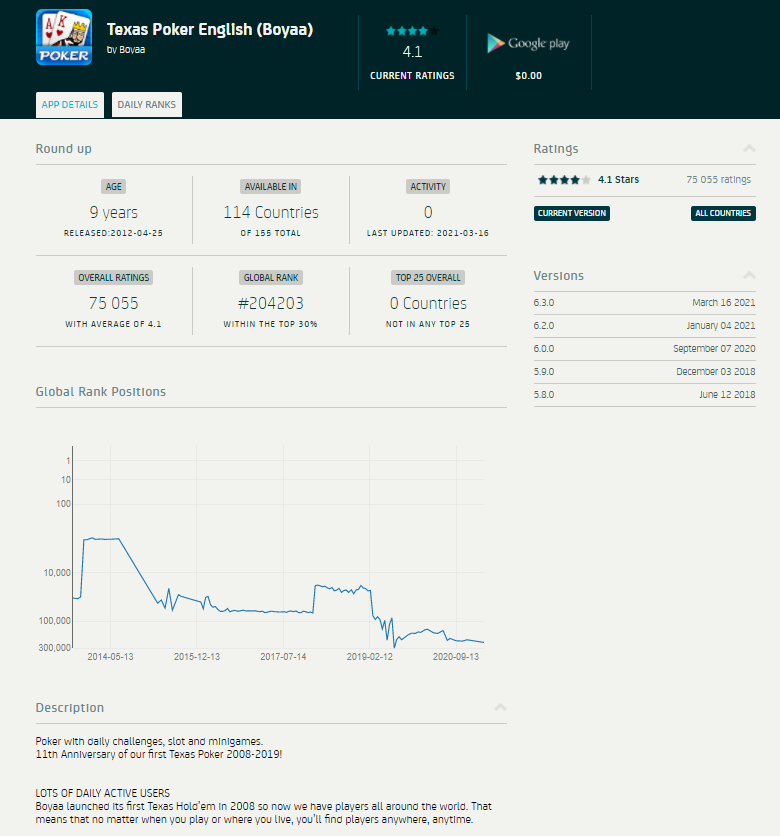 Source: apptrace
Boyaa's Texas Poker app represents 68.3% of revenues as of Q1. The company offers the app in several languages, and this has been able to attract new users and stabilize the global number of users. Revenues for its Hold'em series have been consistent since 4Q19.
Source: Investor Presentation
The pandemic helped to boost app revenues, as more people stayed home and used their mobile devices for entertainment. Even if we consider lower revenue in 2021, of about ~RMB50M per quarter for the Hold'em series, it still amounts to ~HK$240M. Q1 revenues from other apps also show a slight increase, which is positive. If we assume a ~RMB20M of revenues in the other apps, it is still ~HK$96M.
Boyaa's current market is ~HK$330.5M, so even considering low expectations for revenues going forward, the company is trading at a price-to-sales under 1.
Declining users 
Boyaa Interactive had 280,000 paying users as of 1Q21, which represents a decline of 35% YoY. However, if we compare with 4Q20, the number of paying users actually increased by 19.1% QoQ.
Daily active users and monthly active users have also continued to decrease. This is mainly attributed to the decrease in popularity of Boyaa's core product, Texas Hold'em app.
Source: Investor Presentation
Despite the declining number of users, Boyaa Interactive still has nearly 1.5M daily users, and 4.405M monthly users of its apps. User numbers have consistently declined since 2013, and the company was forced to change its target audience from Chinese to other parts of the world. As a comparison the company had 368.7M registered users in 2013. At least 64.3% of its users were Chinese based.  Most of the revenue over the last year has shifted from Chinese to other languages. The Chinese users now represent about 6.5% of revenues as of Q1.
Why is Boyaa Interactive trading at this valuation?
There are a few reasons that explain the stock decline. On one hand, there are declining operational metrics. The number of users has continued to decline, and the popularity of its main app is also losing its appeal among users. On the other hand, the company has been involved in a controversial lawsuit over the last few years.
It all started in 2017 when one of Boyaa's subsidiaries was indicted for alleged bribery. Zhang Wei, the former CEO and founder of the company was one of the defendants. What followed was a string of bad news that has pushed the stock consistently down. The CEO was sentenced to 12 months in prison, for the bribery charges. Boyaa Interactive was ordered to pay a fine of RMB2.5M.
The bad news did not end here, Boyaa's downward spiral would continue into 2019. With the Chinese court seizing Boyaa's bank accounts. The reason behind this is that some of those funds were obtained through illegal activities. Boyaa saw RMB635M or ~HK$700M of its cash frozen by Chinese authorities. Just to put things into perspective, this is over 2x the current market cap of the company. 
Source: TradingView
The court decided in 2019, that RMB942.654M should be paid in compensation for the lawsuit. Boyaa has appealed the decision of the court, and it is still awaiting the court's decision on the matter.
Chinese crackdown on online poker
All of this coincided with the Chinese crackdown on online poker. The CCP simply banned online poker. The Chinese entity responsible for the gaming licenses revoked the licenses they issued. Up until this point, China was the largest gaming market in the world, especially for Poker and Mahjong. With an estimated 100M Chinese playing poker daily, mostly online. Once again Boyaa Interactive was hit hard with these new restrictions that forced Poker apps to be removed from app stores in China.
Valuation
It goes without saying that all of the bad news and negative sentiment towards Boyaa had a tremendous impact on revenues and profitability. With revenues continuously declining since their peak in 2014. In 2020, the company saw an increase in revenues aided by the pandemic, but it still lost ~HK$45.1M. However, even with declining revenues, management was able to increase its gross margins.
Source: TIKR
Looking at its cash flows, and taking into account that 2020 was a particularly good year due to the pandemic, Boyaa was still able to generate ~HK$114M of free cash flow.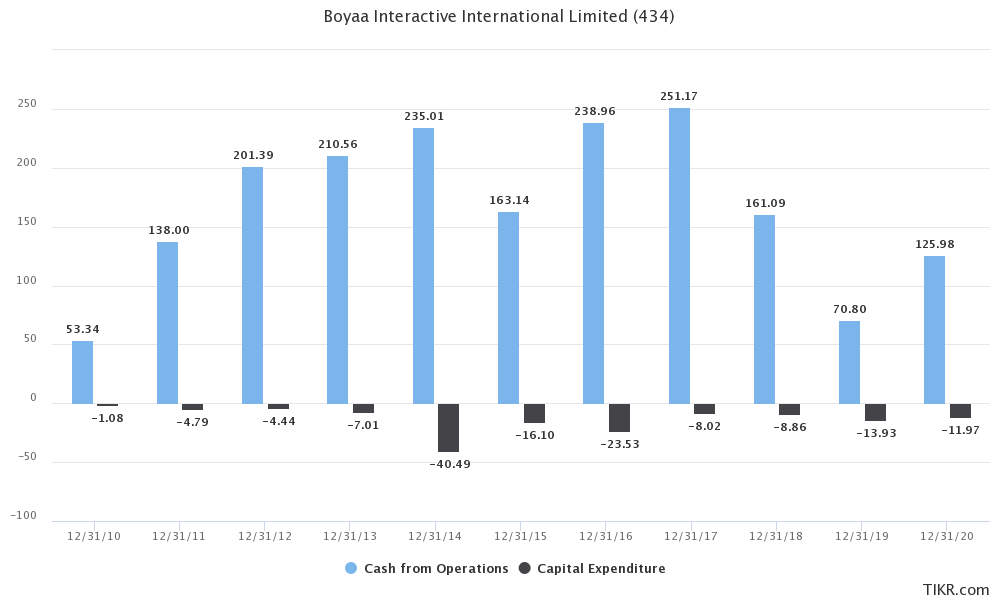 Source: TIKR
With the current market cap of ~HK$330.6M, it has a free cash flow yield of 34.5%. On top of that Boyaa has currently large cash and cash equivalents that far outweigh its market cap.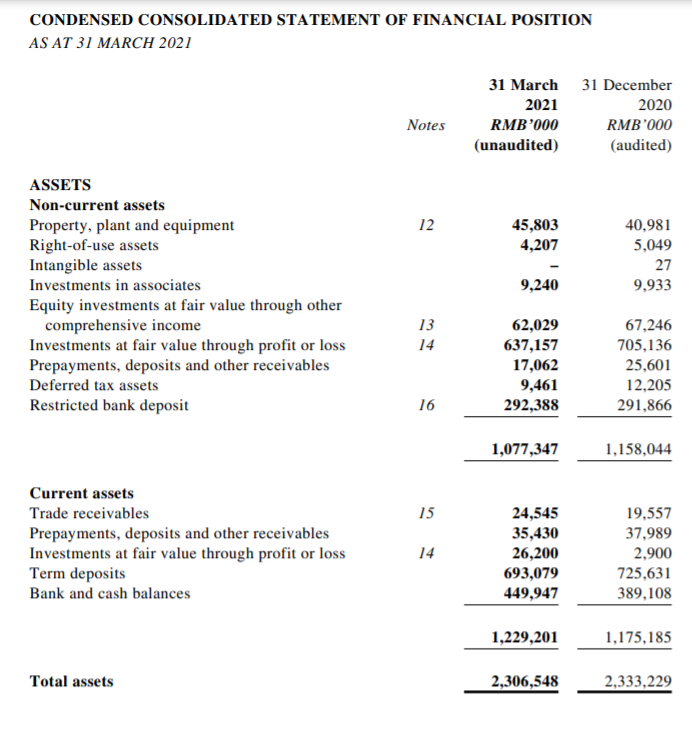 Source: Q1 Results
As of Q1 Boyaa has ~HK$1.372B in term deposits and bank and cash balances. It still has ~HK$350.87M in restricted bank deposits, which is related to the lawsuit. These funds are frozen and awaiting the decision of the court. With total liabilities of just ~HK$335M. 
If we consider the current market cap of the company and exclude the restricted bank deposit, which might be seized by Chinese authorities. For ~HK$330.6M for the company that has over HK$1B in cash after deducting all the liabilities, it generated HK$114M in free cash flow during 2020. The upside is at least 200% if the stock ever gets repriced by the market, and you still have a free cash flow yield of over 10%. What is surprising about Boyaa, is that even with the company's reputation in shambles, it still managed to increase gross margins, and cut costs.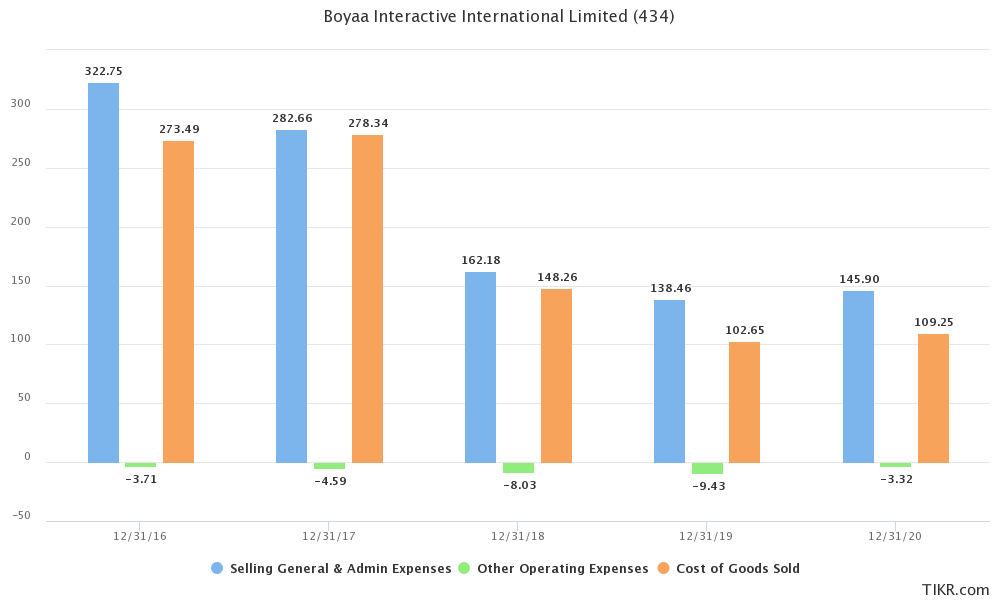 Source: TIKR
Risks
Competition
The competition in the game app market is fierce. There are several developers that continuously release new games. Constant innovation is of the utmost importance. This is perhaps the biggest risk that Boyaa Interactive faces. The higher competition will affect their user numbers, which consequently reduce their advertisement, and subscription revenues.
Reputational risk
Due to the lawsuit, and the bribery charges that were proved in court, Boyaa Interactive suffered a reputational backlash. At this point, it is difficult to say if the company can ever recover completely from that.
The declining number of users
Another great risk that the company faces is the continuous decline of user numbers. This could pose a threat to its sustainability, and significantly reduce its revenues.
Lawsuit decision
It is still unclear if the Chinese court will enforce any additional measures as part of the lawsuit. It is also unknown at this point what will be the court's decision on the fine Boyaa was ordered to pay. Most likely the frozen bank accounts, and restricted cash Boyaa holds might have to be used to pay the fine.
Final View
Boyaa Interactive is a special situation stock. There are plenty of risks, and it is uncertain what will happen at this point. We can try and speculate about the outcome of the court's decision, but it is nearly impossible to make an accurate prediction. However as a whole is selling at a steep discount, and under its liquidation value.
Let's step back and take into account a couple of things. For what is worth, Boyaa Interactive was one of the first movers in the app game space in China. It was featured by Forbes in 2014 as one of the most promising publicly traded small companies, and it was in fact in the first place. The stock was also widely followed by analysts, who since the lawsuit began have stopped covering it. 
There is still some coverage, Credit Suisse (NYSE: CS) seems to be the only western bank covering the stock. Apart from some Chinese and Hong Kong-based analysts. Credit Suisse initiated coverage of Boyaa Interactive in 2013, with a price target of HK$8.
Boyaa Interactive is now a shadow of its former self, but there are still some ways that it can unlock shareholder value after the court's decision on the lawsuit. A dividend or special dividend like it did in the past could be an option. A buyback program is also a viable way to reward shareholders. The best option at this point, and considering the lack of growth in its app portfolio, is to invest in app development.
Without knowing the court's decision, it is wise at this point to avoid exposure. Although a small position could be beneficial if the decision ends up being more favorable to the company.
We are long 0434. Read our disclosure.
Featured image source: Boyaa