Perdoceo Education Corporation (Nasdaq: PRDO) manages for-profit universities in the US. It operates Colorado Technical University (CTU) and the American InterContinental University (AIU).
Perdoceo currently holds ~$451M in cash and short-term investments, and has net student receivables of approximately $41M, with a market cap of ~876M. It is on track to generate ~$120M in net income at the end of the year. For ~$12.45 a share, you are getting $0.58 in receivables, $6.42 in cash and short-term investments, and an estimated $1.7 in earnings for the FY21. If we deduct the cash and receivables, the shares trade at a price-to-earnings of ~3.
We believe the shares are significantly undervalued and offer a good margin of safety despite the risks.  
Perdoceo Overview 
Colorado Technical University has two campuses in Aurora and Colorado Springs, with the total enrollment at 24,600. American InterContinental University also comprises Trident University International (TUI). Its campuses are divided between Atlanta (GA) and Houston (TX), and service 18,100 students. Both universities operate mainly online, which reduces costs for the company. Around 96% of Perdoceo's students are over 21 years old. Bachelor's is the most common degree type making up 66%. Degrees tend to be focused on business studies.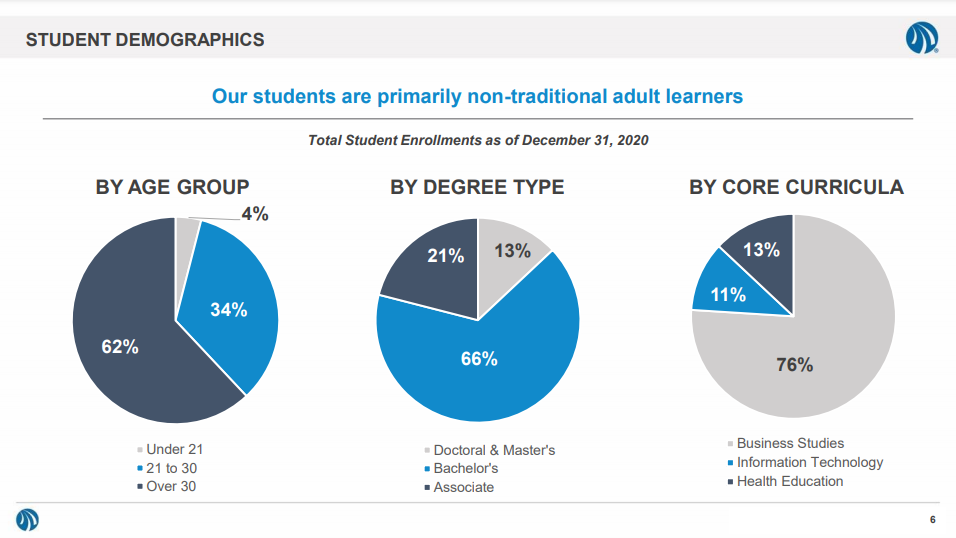 Source: Investor Presentation
Around 95% of CTU's students are enrolled in a fully online program. As for AIU, the number is slightly higher at ~97%.
Higher education market
Roughly 96% of Perdoceo's students are over 21 years old. The customer profile is slightly different from your average college student. Although this might seem like an unwanted feature for a typical university, when we look at the stats we can see that it is actually beneficial. There are over 70M Americans with a high school diploma, and over 45M that have attended college but have not completed. At first glance, it appears that Perdoceo targets a niche portion of the population, when in fact it is by far the largest segment of the population.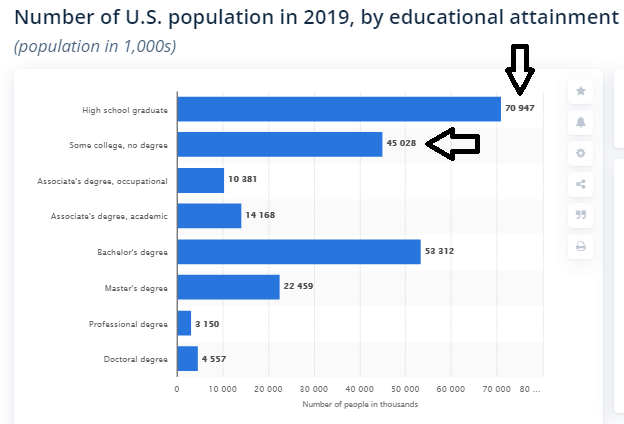 Source: Statista
Although undergraduate enrollment in the US has been in a steady decline since 2009, Perdoceo has been able to go against the trend. The reason is its focus on older individuals looking for a bachelor's degree and the fact that it offers it online. 
Source: Statista
In 2020 Perdoceo tuition revenue was ~$381.3M and ~$270.43M, for CTU and AIU respectively. The average yearly tuition revenue per student is ~15.3k.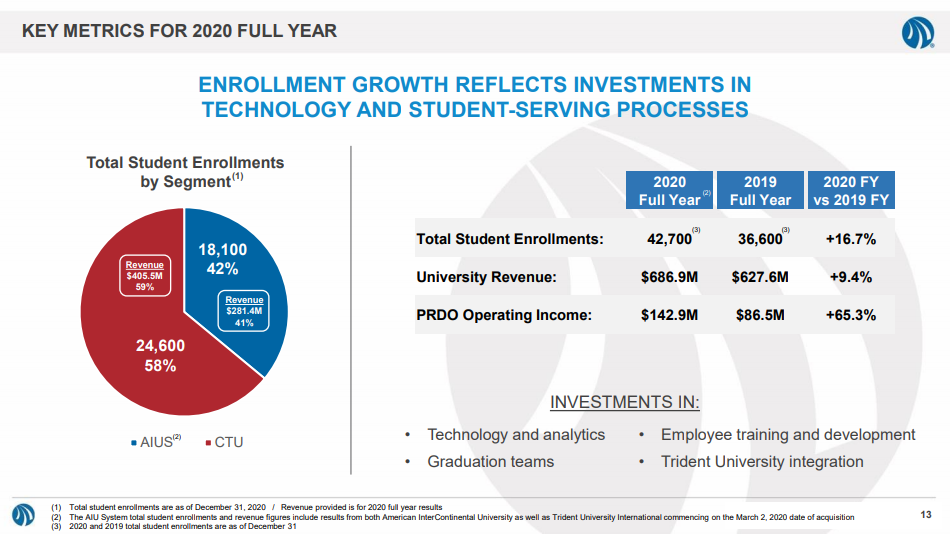 Source: Investor Presentation
When we compare with the average yearly tuition cost for US students in both private and public universities. Perdoceo's tuition is on average over 50% lower than the average private university. Understandably some of those private universities include very prestigious and well accredited institutions.
Average annual charges per student for higher education in public and private institutions
Source: Statista

Perdoceo degree seems fairly priced when compared with other private institutions. Since over 95% of its programs are offered online, students can save a considerable amount of money on room and board expenses. The average yearly room and board cost in 2019 was 11.216k.
The average cost for room and board at US universities per year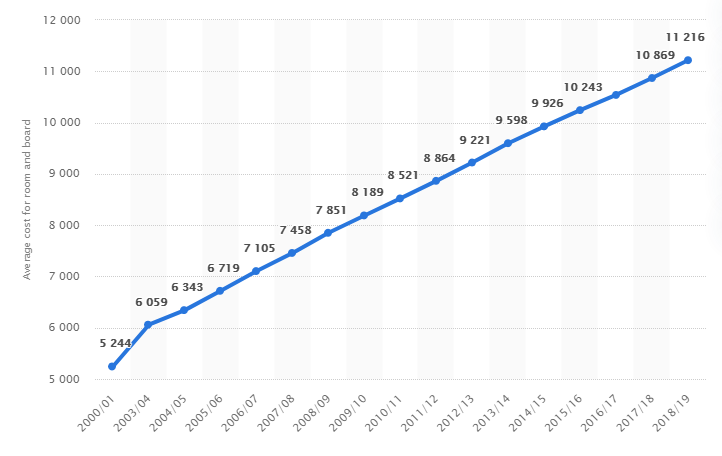 Source: Statista
Distance learning has been widely adopted. Although most courses still require in-person classes, the number of distance learning courses has grown steadily over the past. The pandemic has also contributed to this.
Percentage of students in the US taking distance learning courses
Source: Statista
Perdoceo Results 
Despite having closed four different colleges since 2017, Perdoceo's performance over that period has been constantly improving. Increasing revenues steadily and operating income at a fast pace.
Source: Investor Presentation
Acquisition of Trident University 
In 2020, Perdoceo completed the acquisition of Trident University. The institution was acquired by Summit Partners in 2007, for $190M. Perdoceo closed the deal for a sum between $35M and $44M, with the intention of merging it with AIU. Trident University has ~4,000 students. At the end of the fiscal year of 2018, its revenues were ~$46M, with an EBITDA of ~$9M. Even considering the $44M as the purchase price, it amounts to a cost of 11k per student. That is far below the yearly average revenue per student, Perdoceo generates.
At ~4.9x EBITDA it seems like an attractive price.
Perdoceo Valuation
Perdoceo has a market cap of ~$876M, which given the estimated net income for FY21 of ~$120M gives the stock a price-to-earnings of ~7.3. In reality, Perdoceo's price-to-earnings is considerably lower. It holds as of the last quarter ~$451M in cash and short-term investments and has net student receivables of ~$41M. It has no debt and ~$162M in total liabilities.

Source: 10-Q
Perdoceo has conducted a buyback in 2020, repurchasing 1.3M of its shares, or 1.8% of the shares outstanding. It still has ~$28.2M available under its buyback program that might be used in 2021.
Deducting cash, receivables, and investments
If we deduct the receivables and the cash and short-term investments the company has, the price-to-earnings is somewhere close to 3. On top of that, we should also take into consideration the yield on Perdoceo's bond portfolio. In 2020, the interest income was ~$3.85M, and its bond portfolio was worth at the end of the year ~$300.5M. We can conclude that Perdoceo is earning over 1.3% on its short-term investments. In 2021, it will most likely generate around $5M in interest income.
Perdoceo has benefited from its online program offering and the pandemic might have helped to increase its enrollment. It is a key factor for the low CAPEX and high gross margins. 
Given the nature of the business, revenues tend to be stable and easily predictable, generating a strong and steady free cash flow stream. In 2020 it generated ~$170M in free cash flow, in Q1 it generated $43.666M. Given the current market cap, it trades at a little over 5x free cash flow. If we discount the cash and short-term investments it trades at 2.5x free cash flow, a no-brainer.
Possible dividend payment could help push the stock higher.
Why are the shares trading lower?
Reputation shattered 
There are a number of reasons that explain the underperformance of Perdoceo shares. It should be noted that Perdoceo in 2010 was among the largest private university operators. With over 100,000 students and 100 different campuses. Over the last decade, it was involved in its fair share of controversy and lawsuits.
Placement rates
In 2011 the CEO resigned, following the bad results and allegations of exaggerated placement rates. Perdoceo eventually paid $10.25M to settle the claims in 2013. The stock proceeded to fall over 45% during that period, with several investors filing lawsuits against Perdoceo claiming they were defrauded.
Misleading students
Perdoceo was under heightened cash monitoring in 2015, over concerns about its finances and compliance measures. In 2016, the SEC requested further financial information regarding Le Cordon Bleu, which would eventually be closed in 2017. In the same year, a ruling by the New Jersey Supreme Court allowed students to sue Perdoceo for allegedly misleading students.
Although Perdoceo denied wrongdoing, it was forced to forgive ~$493M in student debt in 2019. In the same year, Perdoceo was ordered to pay $30M to the FTC, over charges that it used sales leads falsely claiming that it was associated with the US military, among other improper approaches in order to generate leads.
As if all of this was not enough, 2020 brought even more shocking news. A whistleblower reported that a senior Education Department official had purposefully removed a website that allowed students to apply for loan forgiveness, through borrower defense. A bill introduced with the intention of providing debt forgiveness for veterans that were defrauded by for-profit universities was vetted by President Trump at the time. Although it had supporters in both parties.
All of this has taken a great toll on Perdoceo's reputation, so much so that it even changed its name.
Political risks
Apart from its conturbed past, Perdoceo faces yet another threat to its survival - the Biden administration. President Biden has vowed to stop for-profit education institutions from profiteering from students, promising legislation that would prevent that from happening. 
At this point, there is no telling what in fact will happen to for-profit universities. The sector reminds constantly of the for-profit private prison sector. On one hand, we understand the political motivations behind the legislative changes that might occur. On the other hand,~8% of all undergraduate students were enrolled in for-profit institutions, as of 2019. Over 1.328M students choose for-profit universities, there seems to be demand for what they offer.
In a recent study, 37% of Americans agreed that for-profit courses are worth the cost. Although the general view on for-profit education providers has changed over the years. A large number of people still feel the services provided are worth the cost.
Dropout
Apart from the reputational and political risks, there seems to be enough evidence that dropout rates in distance learning degrees tend to be higher than conventional degrees.
"The online students had a 72.2% completion rate, while 90.3% of the undergraduates completed their face-to-face course" - Factors that influence students' decision to drop out of online courses 
Conclusion
Despite the risks, Perdoceo faces, the stock currently has a very attractive valuation. It is priced as it is going to go bankrupt soon, but it is not. To a certain extent, all the risks and bad news are already priced into the stock. Although it can decline further, its fair value is at least over $20 a share.
The fact that its degree offerings are mostly online is great plus it means reduced costs and increased bottom line. Given its major political risks, our exposure will be minimal at this point. Monitoring news and developments surrounding these topics will be the key, as well as keeping an eye on the financial results. 
Perdoceo has a strong balance sheet, capable of enduring the changing market environment surrounding for-profit universities. There are some options with regards to long-term growth strategy. It can conduct further acquisitions as we have seen with Trident University. It can also diversify its course offerings, or increase its marketing expenses in order to attract new students.
We are long PRDO. Read our disclosure.
Featured image source: PBS