Razer (HK:1337) has been able to distinguish itself in the competitive gaming market and has established itself as one of the most recognizable brands in the global gaming and esports communities. The company is trying to diversify its revenue streams, and its high-performance gaming peripherals are among the favorite of regular users and pro gamers.
Gaming Sector
The pandemic has accelerated the gaming trend, it is estimated that the total number of gamers in 2020 is 2.6 Billion. The lockdowns and quarantine have only accelerated the trend, as more people look to gaming as a pastime.
Source: Finances Online
The way the population worldwide spends its free time has been changing, and people are turning away from reading and watching movies to gaming. This has boosted the revenues for game-developing companies. Just in the U.S., there was an increase of spending among gamers of 30% compared to the prior year, and this positively impacts Razer's business.
The main revenue segment is gaming peripherals, the market has grown in size and it will grow in the future. It is estimated that the gaming peripherals market in the U.S. is around $4.25 Billion in size. The market is expected to grow and reach a total size of 6.96 Billion by 2025. The company is currently the market leader in the U.S., and the segment is still growing in China, Asia Pacific Region, and Europe.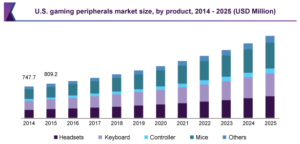 Source: Great View Research
Esports
Competitive gaming has been growing and it represents nearly US$1 Billion in market size, and it is expected to reach over US$1.5 Billion in 2023. China is the leading region when it comes to Esports.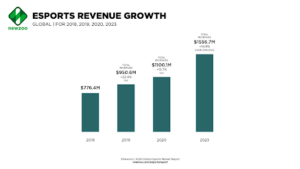 Source: Newzoo
Revenues have grown driven by an increase in the audience. Esports have gained an immense following with nearly 500 million people watching Esports competitions.
Source: Newzoo
Razer has been sponsoring professional gamers and has its own team of competitive gamers. Pro gamers are looking for high-performance peripherals that can make a difference. Razer stands out as a manufacturer of high-quality products in the sector, and the popularity it has gained among the pros drives casual gamers to seek them. Through sponsorship of esports pros and esports competitions, Razer has been able to attract consumer attention and is today one of the most recognizable brands in the sector. 
Revenue Segments
The company is sacrificing short-term profits in order to increase revenues. Its main revenue segment is gaming peripherals, where it is the market leader in the U.S. The company also operates Razer Gold & Silver, a reward system where players using Razer Gold to purchase games can receive points to redeem for different prizes. Razer Gold has been growing with an increase of over 125% in total payment volume. It is seeking a digital banking license in Singapore and different jurisdictions, with the intent to create an ecosystem targeting millennials. By offering a multitude of different products, the company has been able to capture more revenue, creating a unique gaming ecosystem aimed at millennials.
Latest Earnings
The recent earnings report for the first semester of 2020, shows the company is still growing at a fast pace in its different revenue segments. 
Revenues grew 25.3% YoY to US$447.5 million. 

The gross profit margin also improved by 22% mainly due to the growth in the services segment. 

Cash Flow from operations was US$66 million.

No debt and over US$500 million of cash and cash equivalents
We firmly believe that Razer will become profitable by 2021, and the stock price should surge.
Competition
Logitech is the biggest competitor Razer faces, its brand and quality are highly recognized, although Razer remains the favorite among professional players. Given the growth in the sector, both companies are trading at high multiples, despite that Razer seems like an attractive stock that should perform very well in the long term. Logitech remains profitable and that is the biggest difference between the two stocks. Despite the lack of profits, from a value point of view 20% of Razer's market cap the company is holding in cash.
| | | |
| --- | --- | --- |
|   | Razer | Logitech |
| Price/Earnings | N/A | 23.7 |
| Forward Price/Earnings | 294.12 | 24.27 |
| Price/Book | 4.82 | 9.29 |
| Price/Sales | 2.94 | 4.36 |
| Price/Cash Flow | 32.47 | 23.47 |
| Enterprise Value/EBITDA | -9.8 | 22.12 |
| Debt to Equity | 0.02 | 0.01 |
| Net Margin % | -5.87% | 18.31% |
| Return on Equity % | -9.31% | 46.66% |
| Dividend | N/A | 0.93% |
| Payout Ratio | N/A | 21.90% |
Source: Morningstar
Risks
The lack of profit is the biggest risk when buying Razer stock. With that in mind, the company has literally no debt and a high cash position of over US$500 million. Not only that but the stock is trading at very high multiples, and a decrease in future growth can make the stock an expensive investment. 
Conclusion
The recent earnings report shows that the company is on track to become profitable and it should be able to achieve it by 2021. Its presence in the gaming market will continue and its brand recognition among professional and non-professional gamers is poised to grow. The company has a moat and it will be difficult for competitors like Logitech to take away Razer's market share. Despite the high multiples and lack of profitability the stock seems fairly priced under HKD$2 a share. The growth in the multiple revenue segments should continue and once it becomes profitable its stock price will shoot up. With over US$500 million in cash and with a market cap of a little over US$2.5 Billion, the company is still a little expensive. I would advise you to buy the stock in the Hong Kong Exchange although you can buy them OTC (Over the counter). 
HERE are our top 3 stocks to watch in China
We are long Razer. Read our disclosure.
Featured image source: VulcanPost