Nickel prices have skyrocketed during 2022 amid inflation fears, and as the demand for the metal continues to rise. Investors looking to profit from this recent surge in nickel prices are considering how to invest in nickel. 
There are a few options that you can consider to get exposure to nickel, and in this article, we will go over the different ways to invest in nickel and consider whether nickel is still a worthwhile investment.
Is nickel a good investment in 2022?
Since the beginning of 2022 nickel prices has skyrocketed due to an unexpected short squeeze in the market that prompted London Metal Exchange(LME) to cancel several nickel trades. At the center of this epic short squeeze was Tsingshan which was short nickel when the price started to skyrocket. 
It received an astronomically high margin call of $8 billion, which drove the LME to cancel all the trades during the day. The LME is at the center of this ongoing controversy, as the lawsuits against it pile up from funds and other institutions that were long nickel.
Demand expected to outweigh supply
Another reason that explains this is the increase of 8.4% in demand for nickel. Since nickel is commonly used in the manufacturing of car batteries, the demand for it is expected to continue well into 2023. The demand for nickel is expected to be so high, that some estimates project that demand will outweigh supply before 2025, creating a supply-demand imbalance that could send nickel prices a lot higher.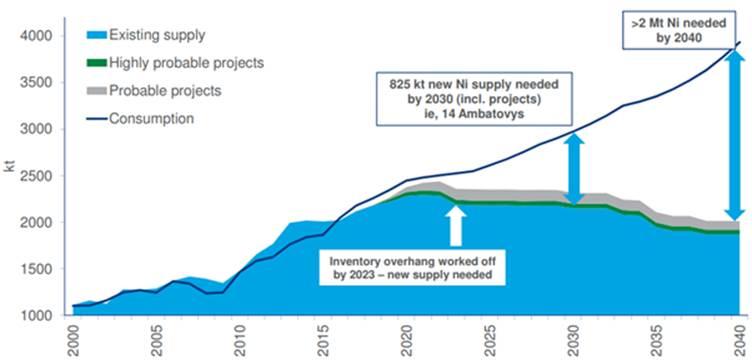 New nickel mining projects will have to be developed in order to prevent not only higher nickel prices, but also nickel shortages over the coming years.
Demand will continue to increase mainly due to the battery sector and higher demand for electric vehicles, which will increase 2-fold in just the next 4 years. 
However, since the recent spike nickel prices have come down substantially and are now at the same level as at the beginning of 2022, but the investment thesis for nickel remains unchanged.
Russia sanctions impact the nickel market
Another reason why nickel went ballistic is the Russian invasion of Ukraine and the imposed sanctions. Russia remains one of the largest miners of nickel in the world, accounting for 10% of the global production. Nornickel is the largest nickel mining company in the world and it has been hit hard by the sanctions imposed on Russia. Limiting the company's ability to export nickel, and it is even considering a merger with Rusal to overcome the sanctions.
Ways to invest in nickel
There are a few ways that investors can choose how to invest in nickel:
ETFs
Stocks
Futures and futures options
ETF
The most common way to invest in nickel is through ETFs. Although there aren't a lot of nickel ETFs available, there are enough options to consider. 
Is there a nickel ETF?
Here are the 2 main nickel ETFs available:
iPath Series B Bloomberg Nickel Subindex Total Return ETN (JJN)
WisdomTree Nickel ETF (NICK)
iPath Series B Bloomberg Nickel Subindex Total Return ETN (JJN)
The iPath Series B Bloomberg Nickel Subindex Total Return ETN is a good way to get exposure to nickel, and the returns should be similar to holding nickel futures. However, it is important for investors to understand that an ETN is a more complex financial product that does not guarantee any claim on nickel.
WisdomTree Nickel ETF (NICK)
The WisdomTree Nickel ETF (NICK) is an exchange-traded commodity (ETC) that allows investors to get exposure to nickel, and it is backed by swaps. The WisdomTree Nickel ETF mimics the performance of nickel prices, and it is a good way to benefit from higher nickel prices.
How can I buy a nickel ETF?
Most brokers will allow you to invest in one of these 2 nickel ETFs, however, it will depend on the broker you are using, and you want to confirm with your current broker that you can trade these nickel ETFs. If your broker does not offer these ETFs, you can also consider opening another brokerage account. 
This is one of the advantages of having multiple brokerage accounts because it allows you to trade any ETF or stock you want.
Stocks
Here are some of the largest nickel mining stocks you can consider:
Vale
Vale S.A. is one of the largest mining companies in the world, and it mines roughly 8.6% of all the nickel mined. Nickel mining represents roughly 10% of the company's revenues, and it also mines coal, iron ore, and copper among other metals.
Glencore
Glencore is also one of the largest mining companies in the world, and its nickel mining segment represents around 5% of global production. However, nickel is just a small segment of Glencore, and it just represents 6% of revenues.
BHP
Finally, we have BHP, which is also a major miner of nickel representing around 3% of the global production. As with Glencore, BHP's nickel revenues are a small percentage of the total revenues of the company. So even if you invest in the stock, your total exposure to nickel will be fairly small.
Futures and futures options
Lastly, you can also invest in nickel or trade it using futures and futures options. This involves a lot more risk, and also requires more capital. To trade or invest in nickel futures and futures options you will need a margin account with a broker that allows you to trade nickel futures.
If you want to trade nickel futures you also want to make sure your broker allows you to trade these financial products, and you need to make sure you meet the margin requirements, which were recently raised by LME following the nickel short squeeze earlier in the year.
How much money do you need to trade nickel futures?
Currently, the margin requirement for nickel futures is 12.5%, and the minimum lot of the contract is 6 tonnes. At the current price of ~$22,000, and with the margin requirement of 12.5%, you need around $17,000 to trade a single contract on the LME.
What is the best way to invest in nickel?
Given the lack of options, and the fact that most of the mining stocks that are large nickel miners only have a small exposure to nickel the best way to invest in the metal is through nickel ETFs. These products allow you to get direct exposure to nickel prices, and although there are some risks, they still present the best options.

Futures and futures options are also interesting options, however, they involve a lot more risk, and require a lot of capital that most investors might not want to commit to a single trade or investment.
Conclusion
Nickel remains one of the most important metals for the future, and for the development of electric vehicles. Its demand will continue to rise, and there are several reasons why you might want to get exposure to the metal. The best way to invest in nickel is certainly the ETFs, as they allow you to easily trade, offering plenty of liquidity, and it also gives direct exposure.