The biggest trend so far in 2022 is that investors are now shifting to value stocks. In 2021, the largest trend has been growth. Growth stocks outperformed, and investors clearly put most of their portfolios into growth stocks.
So far 2022 has brought us a new trend - value stocks. With the Central Banks trying to tame inflation, and with higher rates going forward value stocks are now the place to be. With so many stocks in value territory, it is difficult to understand exactly which ones are the best value stocks for 2022. 
Here are our favorite large cap value stocks for 2022:
Meta Platforms
Certainly, no investor could have predicted that Meta Platforms, Inc. (Nasdaq: FB) would ever be included in a list of value stocks, following a nearly 30% decline in the stock price.
The market clearly overreacted over news that Facebook daily active users (DAU) declined for the first time. With the stock plunging over 26% and whipping over $320B of its market cap.
You may ask why did the market overreact over Meta's loss of daily active users? The number of users declined from 1.93B to 1.929B. Obviously, these are bad news and it might signal that the user growth trend Facebook has been able to maintain for decades, is now starting to decline.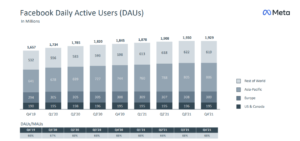 Source: Investor Presentation
However, we need to be objective here. A decline of 1M daily active users does not justify a company's valuation being slashed by over 26%. In fact, when we compare the number decline in percentage terms it was a meaningless ~0.052% decline. The question going forward is if the decline in daily active users will continue.
Meta Valuation
The fact is that Meta is trading at one of the most attractive valuations it has ever traded. With a price-to-earnings under 16, a fortress balance sheet, and a new revenue stream with the investment in the metaverse. 
Even considering the risks, and the high competition Meta is facing, it seems that the valuation is not pricing in the competitive advantages of the business.
Meta generated 12.735B in free cash flow for 4Q21, so projecting free cash flow for 2022, we are looking at $50B for the FY. With the current market cap of $621B, it is a free cash flow yield of 8%. 
Since 2013 Meta has grown free cash flow at a CAGR of over 67%. There are just a handful of companies that are able to do this. Obviously, over the last few years, free cash flow has grown at a slower rate. However, even when comparing from 2018 until now, free cash flow has grown at a CAGR of ~36.5%.
With nearly $50B in cash and equivalents, and with just under $15B in total debt, the company has a strong balance sheet. 
Assuming a 5% free cash flow yield, Meta would have a market cap of $1T, and that is closer to its fair value.
Meta Risks
At this point, there are clear risks for Meta. The company is facing a lot of competition from the likes of TikTok, and it seems that some of its apps are turning obsolete. Younger users are shying away from platforms like Facebook. 
What becomes difficult to estimate is even if Facebook were to see a long-term user decline, how steep would it be? Because answering this question is so difficult, it becomes challenging to make accurate estimates, and project earnings for the company.
The rebranding of the company and the new focus on the metaverse will require additional CAPEX that could lower its free cash flow generation. It may also prove to be a fruitless venture, where companies like Microsoft (Nasdaq: MSFT) are already moving in.
Meta still needs to invest, and develop its own virtual reality content. This is perhaps the biggest challenge the company faces, and it will ultimately determine the success of this shift into the metaverse.
Meta is still attractive at these levels
Despite the uncertainty surrounding the metaverse, and how the company will be able to monetize the massive investment required, Meta is still a value stock at these levels. The endless possibilities of virtual reality marketing remain a strong case for investing in the metaverse. 
Alibaba Group
Alibaba Group (NYSE: BABA) has been of the worst-performing stocks in 2021. The stock was trading at over $250 per share in January 2021, and it is now trading slightly above $120. That did not deter Charlie Munger from continuing to add to his position.
Alibaba is also a large-cap tech stock that is in value territory, and it might not be here for long. The main reason why the stock dropped is the risks related to China. As the fears surrounding China start to cool off, we see some investors looking now for opportunities in the Chinese market. Alibaba is one of those stocks you can't miss.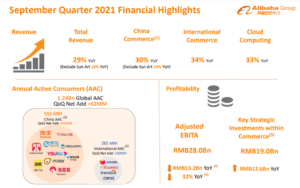 Source: Investor Presentation
Alibaba's main segments are still growing the top line at around 30% a year. Despite the decline in adjusted EBITDA, the company seems to be making the right investments. It also continues to increase its number of users across its platforms.
Alibaba Valuation
Alibaba is trading at an attractive valuation. It is undoubtedly one of the largest ecommerce businesses in the world, whose operations span well beyond just ecommerce. In 2022 Alibaba is expected to deliver nearly $126B in revenues. 
It generated over $29.5B in free cash flow over the last 12-months. With a market cap of $340B and a free cash flow yield of ~8.7%, it does not seem to be a bad investment. 
Considering it has one of the most interesting ecommerce platforms with a global reach, and it is located in one of the fastest-growing economies worldwide, it seems like one of the best value stocks worth watching in 2022. 
It should also be noted, that despite having some debt, the company has nearly 20% of its market cap in cash.
Alibaba Risks
Alibaba continues to be a risky investment, or at least that is how the market is perceiving it. The main reason is the unpredictability of the Chinese government, and how legislative action could negatively impact the company.
These risks are not unfounded, and they should not be taken lightly. However, it would be highly unlikely that the Chinese government would take action against one of the country's most important companies which employ over 250,000 people. 
It also faces competition on its main segment - ecommerce. Although this is also a risk, so far competitors have not been able to limit Alibaba's ecommerce segment growth. When you consider that China is slowly becoming the largest economy worldwide, and with a fast-growing middle class, it seems that Alibaba is set to benefit from it.
Conclusion
Given the current market valuations, Meta, and Alibaba stand out as the most interesting value stock picks for 2022. Both of them are well-positioned to be great investments over the long term. 
Even considering the risks, the valuations are appropriate for the uncertainty. However, both have strong business models, and will easily be able to grow over the next 10 years.