Swedish Match is one of the most attractive stocks in the nicotine space.

Swedish Match continued its strong performance in Q2, with sales increasing by 19% in local currency to ~$520M.

Its flagship product ZYN continues to show impressive growth across the US market, and it should continue to be the main driver of growth.

It is very well positioned to take advantage of the increased consumer demand for smoke-free nicotine products.
Swedish Match, AB (OTC: SWMAY) has been a great performing stock over the past two decades. Its nicotine products have been very popular among consumers, and it continues to grow both the top line and bottom line. Considering the high market share it has on the nicotine pouch market, and the expected future growth, the stock seems very attractive.
Both snus and nicotine pouches seem to be healthier alternatives to vaping and regular cigarettes. With increased consumer awareness of the health impacts of some nicotine products. It is expected that over the course of the next decade, these smoke-free nicotine products will become increasingly more common. 
Swedish Match is particularly well-positioned to reap the rewards of this growing trend. The global tobacco market is estimated to be worth $880B in 2020, and it is expected to grow at a CAGR of 1.8%. If we compare with the US nicotine pouch market, which was valued at $2.33B in 2020, it is estimated that it will reach $21.84B in 2027.
Representing a CAGR of 30.7%. Although Swedish Match is trading at a fair valuation, based on the recent results. If we consider the expected growth and competitive advantages it has, the stock seems to be a great long-term holding.
Segments and market share
Swedish Match has three main segments. The most important is the smoke-free segment, which includes its nicotine pouch and snus products. The smokefree segment accounts for 65.7% of sales and 70.9% of EBIT during the first half of 2021. The cigars segment includes regular tobacco products and represents 27.1% of sales, and 24.9% of EBIT. Swedish Match also has the lights segment, which includes smoking accessories like lighters and matches.
Source: Investor Presentation
Swedish Match focuses primarily on the Scandinavian and US markets. It holds significantly more market share across its products in the US than in the Scandinavian market where the competition is more fierce. Its estimated market share in the nicotine pouches is 75% in the US, making it the market leader. In Scandinavia, it holds a 16% market share. However, Swedish Match is the snus market leader in Scandinavia with a 60% market share.
Source: Investor Presentation 
Growth was driven by US sales of ZYN
Swedish Match initially received permission to sell its smoke-free products in the US in 2015. In 2019, the FDA authorized Swedish Match USA to market its products as a modified risk tobacco product. The FDA stated that there was enough scientific evidence to prove that smoke-free products have a lower impact on consumers' health. This allows Swedish Match to advertise its products to adults. 
ZYN has been growing at a fast pace in the US market. It has coincided with the consumer shift towards healthier nicotine products. Swedish Match has been focusing on increasing its retail presence. ZYN is now present in over 100,000 stores across the US. Nicotine products are still very dependent on retail sales.
Although ecommerce sales of nicotine products have increased, consumers still prefer to get this type of product from retailers. Swedish Match focuses on increasing the number of stores it is present in, and it has been able to acquire more customers and increase its sales volume. ZYN shipment volumes in the US have nearly doubled over the last year.
Source: Investor Presentation 
Valuation
Swedish Match's outstanding results continued in Q2, with the company delivering double-digit growth across all segments. Revenues increased to ~$526.43M, driven by ZYN revenues, which increased by more than 50% in 2Q21. ZYN volumes increased by 64%.
Swedish Match has one of the highest valuations in the nicotine space. However, there is a good reason for that. It has performed incredibly well over the past, and the continuous improvements in the results brighten its already positive outlook. It continues to outperform its peers, and deliver impressive shareholder returns.
Following the FDA approval in 2016, Swedish Match has been able to constantly grow revenues, net income, and expand its margins. Over the last year, gross margins have remained above 66%.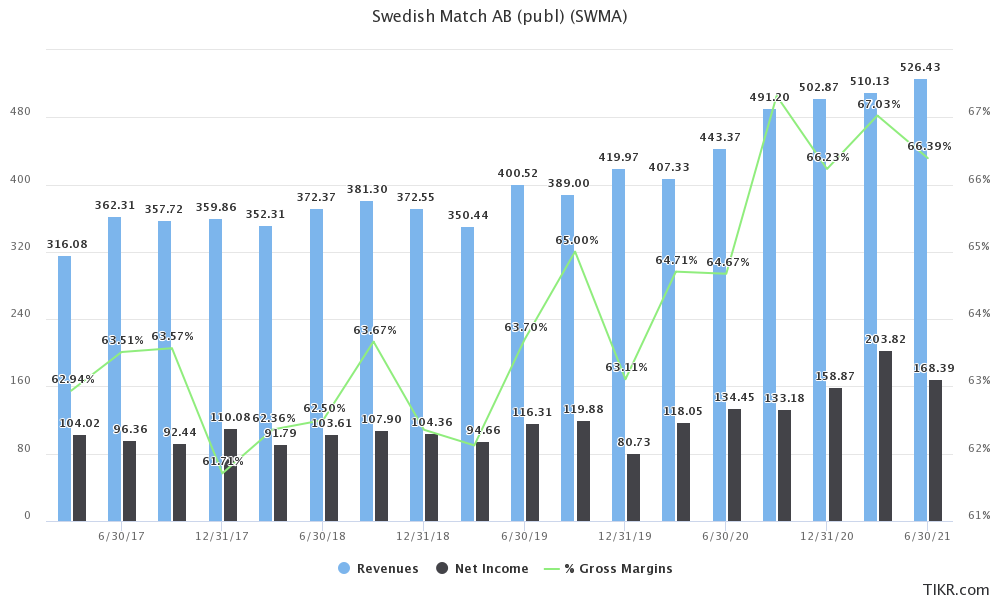 (All numbers in millions of dollars)
Source: TIKR
Swedish Match will easily generate over $200M of quarterly net income, over the next few years. This has allowed the management to increase its dividends by 45.5% since 2017. The payout ratio has remained under 50% since 2019. It also continues its buyback program creating even more value for shareholders. Over the past decade, Swedish Match reduced the number of outstanding shares by ~24.5%.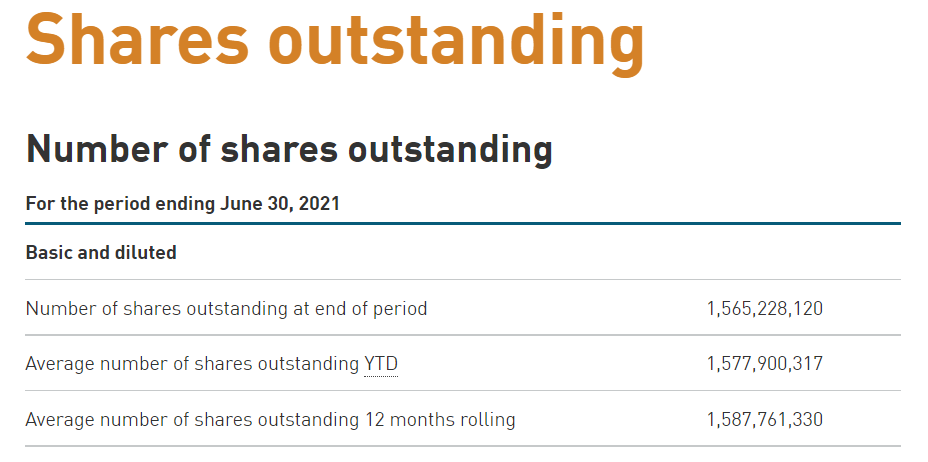 Source: Swedish Match
Swedish Match also continues to generate increasingly more free cash flow.
(All numbers in millions of dollars)
Source: TIKR
LTM free cash flow was ~$485.3M. Based on the current market cap of $14.66B, it has a free cash flow yield of ~3.3%. Management expects an increase in capital expenditures, as the company tries to increase its production capacity.
Looking at the balance sheet, the negative equity stands out. It just shows how efficient management has been in deploying capital. Net debt currently stands at ~$1.628B, which is 1.72x EBITDA over the last twelve months. Another great aspect is that most of Swedish Match's debt is at a fixed rate. It will also have no problem refinancing some of its debt, and extending its maturity profile.
Source: Investor Presentation
Investment thesis
Let's assume that the nicotine pouch market in the US will reach $20B in 2027, which is a little lower than what the estimates point to. Consider that Swedish Match's nicotine pouch market share in the US is currently 75%. If we assume an even lower market share at around 50%, we could expect Swedish Match to have revenues in 2027 of $10B.
Even if we consider that its gross margins decline to 50%, that would represent $5B in gross profits in 2027. That is just under 3x the current market cap of $14.66B. This is excluding the Scandinavian region, and the cigars and lights segments.
While at first glance the stock might seem expensive. Taking into consideration the market-leading position, its brand loyalty, and the expected growth of smoke-free nicotine products, Swedish Match seems fairly valued.
Risks
Increased competition
Swedish Match is by far the most interesting company in the nicotine smoke-free category. Its products have a superior quality that resonates with consumers, and its financial performance has shown that. However, there are new companies out there with snus and nicotine pouches that are also growing at a fast pace.
Swedish Match will face increased competition in the future, and that poses a risk. Especially in the US market, a great number of smoke-free products were launched right after Swedish Match's FDA approval. The attractive margins and the expanding market of smoke-free products will certainly bring more players into the space.
Health concerns
Although smoke-free nicotine products have been around for a while, there is not enough evidence to conduct thorough research into its long-term effects. It seems however that products like snus and nicotine pouches are less harmful. This might change in the future, as more patient data is collected. The number of studies will certainly increase, and this could pose a risk to Swedish Match.
Legislation
As we have seen with vaping products, legislation can deeply affect the business. The ban on flavored vaping products, and the recent legislation prohibiting online sales of vaping products. This shows how susceptible this industry is to legislation. To prevent teenagers from using nicotine products, new legislation might be imposed. This could, directly and indirectly, affect the long-term outlook for the industry, and Swedish Match.
A study published in 2019, found a positive correlation between teenagers using snus and later becoming smokers as young adults. There has been an increase in teenage consumption of snus in some Scandinavian countries.
This has led to a growing concern that nicotine pouches might be targeting teenagers. Scientific studies show that Swedish Match's smoke-free products seem to be healthier than vaping and cigarettes. However, it seems to be the lesser of two evils.
At this point, it is difficult to say if any legislative changes will impact Swedish Match. However, the legislative environment surrounding nicotine products is something to keep in mind, when you analyze Swedish Match.
Bottom line
Nicotine is an incredibly addictive substance, whether it is in the form of cigarettes or any other smoke-free alternative. Warren Buffett has a very famous quote when it comes to tobacco companies. 
"I'll tell you why I like the cigarette business. It costs a penny to make. Sell it for a dollar. It's addictive. And there's fantastic brand loyalty." - Warren Buffett
Swedish Match is in the best position to capitalize on the expected growth of smoke-free nicotine products. With a strong market-leading position, and a range of products with strong brand loyalty. Swedish Match seems to be by far the best stock to get exposure to this growing trend.
It benefitted from the first-mover advantage, and this certainly does not guarantee its future success. It will face increasingly more competition over the next few years. However it has enough competitive advantages, and it continues to invest in its growth.
We are long SWMAY. Read our disclosure.
Image source: vape