Industrias Bachoco is still deeply undervalued, with a negative EV of -$750M.

With 49.3% of its market cap in cash and cash equivalents, and total debt of ~$99M the balance is as strong as it gets. 

Great results in the first half of 2021, and it is on track to deliver at least ~$400M in free cash flow in 2021.

Considering the lack of attractively priced stocks in this market, Industrias Bachoco is an attractive deep value stock.
One of the first stocks we covered here was Industrias Bachoco (NYSE: IBA). The company at the time was clearly undervalued. Although it has been roughly 9 months since we first covered the stock, it is still trading at attractive levels. On top of that, the results in 2021 have been significantly better than in 2020.
With revenues increasing by 25% YoY in 1H2, driven by Mexican sales that increased by 36.6% YoY in 1H21. US sales have lagged and actually decreased by 1.1%, when compared with the first six months of 2020. EBITDA increased a whopping 286.4% YoY for 1H21. Industrias Bachoco continues to accumulate cash on its balance sheet, and reduce its debt. 
Given the high valuations across markets, Industrias Bachoco is set to outperform. With 49.3% of its market cap in cash and cash equivalents, total debt is under $100M. It generated ~$240M in free cash flow during the first two quarters. Using a conservative estimate of ~$400M in free cash flow in 2021, the stock is trading at 5.5x times free cash flow. If we add the total debt to the market cap and deduct the cash, the stock is trading at 3.12x free cash flow. Giving it a free cash flow yield of ~32%.
Industrias Bachoco results in 2021
Q1 results
Net sales increased 23% YoY to ~$970M, mainly driven by Mexican sales, which increased 32.2%. US sales lagged but still managed to increase by 1.2%. EBITDA margins rose to 15.1%, the highest since 2014. Capex increased 89.9% YoY, to ~$28M for the quarter. EPS came in at $2.06. 
Management noted that raw material costs were higher during the quarter, and for that reason Cost of sales increased by 11.7% YoY. 
Q2 results 
The Q2 results were even better, and Industrias Bachoco has shown tremendous growth for a poultry business. Sales increased 27% YoY to ~$1.05B, with EBITDA margins declining to 11.7%. Once again most of the growth in Q2 was driven by Mexico, with sales in the region increasing by 40.5% YoY. In fact, US sales declined by 3.3% during the quarter. EPS in Q2 was $1.47, a great improvement YoY. In 2Q20 the EPS was -$0.04.
Even with the cost of sales continuing to increase throughout the second quarter, it still managed to post great results. It shows the competitive advantages, and pricing power of Industrias Bachoco, especially in the Mexican market.
Industrias Bachoco valuation
Despite all of the good news the stock is still trading at 5.5x free cash flow. If we take into account that it has ~$1.08B in cash and cash equivalents, and total debt of ~$120M it is a deep value stock at this point. Industrias Bachoco has continuously increased revenues and net income. However, its price-to-earnings ratio is still low when we compare it historically.

Source: StockRover
It achieved a record level of free cash flow in Q2 of ~$141.82M. If Industrias Bachoco is able to continue this performance in the second half of 2021, we could be looking at $400M-$500M in free cash flow. Considering the free cash flow in the first half of 2021 was ~$240M.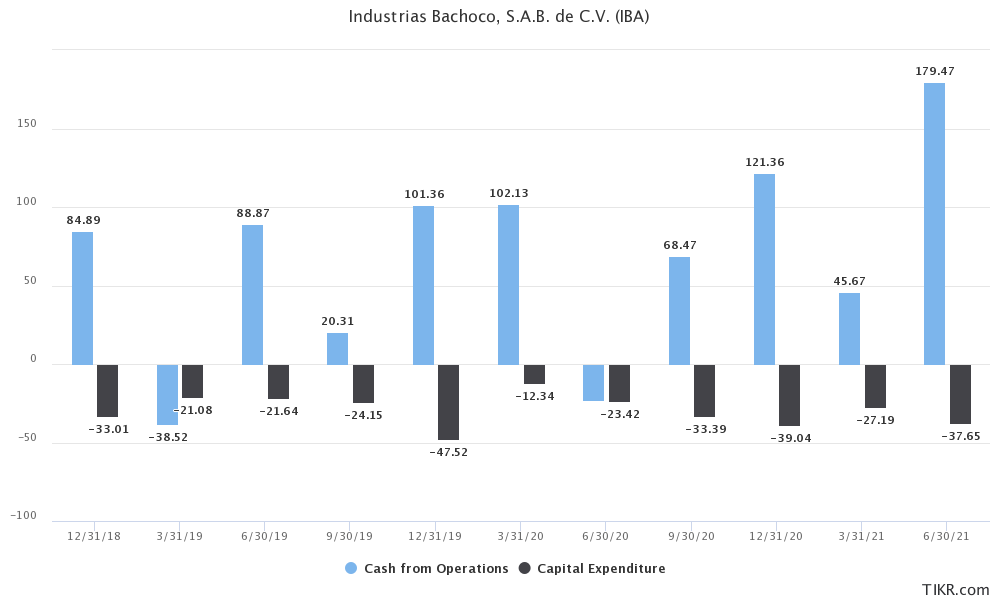 (All numbers in millions of dollars)
Source: TIKR
Considering the lack of defensive stocks that are able to offer a margin of safety, and considerable upside we like Industrias Bachoco at these levels. High single-digit price-to-earnings, while generating strong free cash flow. Additionally, it has ~$1.08B in cash and equivalents, with just ~$99M in total debt.
How Industrias Bachoco could unlock value for shareholders?
Since the stock performance has been appalling during the last few years, there are some ways management could try to unlock more value for shareholders. 
Buyback
Over the years, Industrias Bachoco has repurchased some of its common stock. The amount dedicated to buybacks has been well below what it could be. Although in the last quarter, management spent ~$1.62M repurchasing stock. This could be a great way of unlocking value for shareholders. The company could certainly reduce the number of outstanding shares by at least 25%.
Further acquisitions
Management has reiterated the intention of growing through acquisitions. The poultry business is a capital-intensive business. For that reason, management sees more value in acquiring even smaller competitors that are already operating. We could see more acquisitions going forward. The Q2 earnings call shed some light on the acquisition prospects of Industrias Bachoco.
"Emiliano Hernández Marvan
Congrats on the results, very impressive. Just a quick one on capital allocation. You have now reached a very impressive MXN 19 billion in net cash. What are the main priorities on deployment there? Could we see maybe a transformative acquisition in the short-term or maybe an external dividend would make sense?
Maria Jaquez
So like we have mentioned in the past, we think that with the results that we're now seeing, we think that we have the firepower to move either way to go after a transformational acquisition or a series of acquisitions, which we think at this point seems more feasible.
Currently, we are looking at opportunities outside. But at this point, it's very soon really in the process for us to share something with you particularly, but we want to give you the message that we are actively looking, that we are participating in some process in order to make better use of this cash. As you know, the priorities are in Mexico in -- to grow in other proteins. And outside Mexico, the priority is in chicken."
Dividend 
Another possibility is a dividend increase. Management has been conservative with the payout ratio, and since 2015 it has not exceeded 25%. With growing EPS, we could see a dividend increase or a special dividend at some point in the future.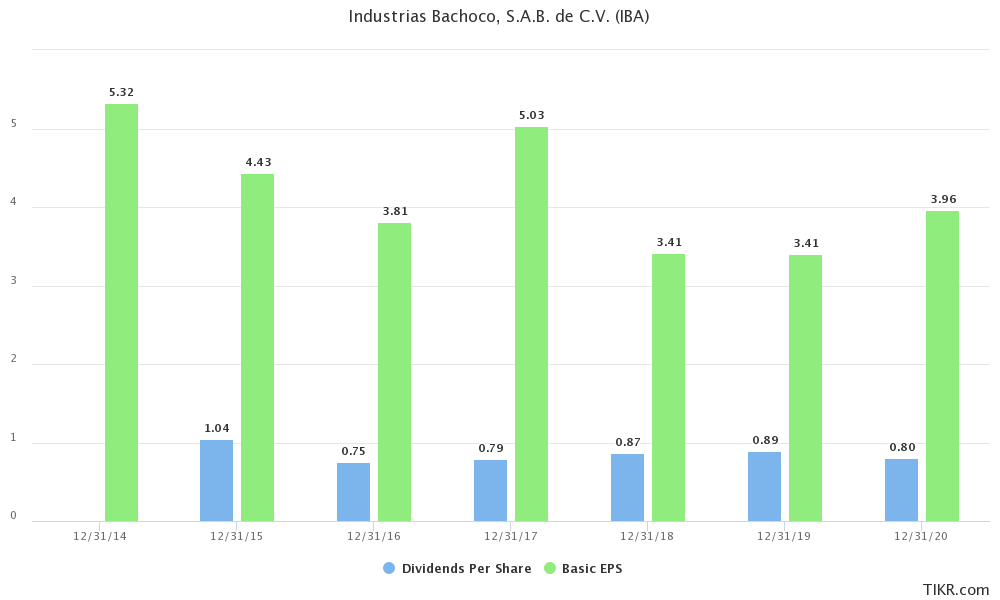 (All numbers in dollars)
Source: TIKR
Risks
Despite having a considerable presence in the US poultry business, Industrias Bachoco has been unable to gain market share in the US. The high competition has made it difficult for the company to increase sales in the US. In fact during Q2, net sales in the US declined by 3.3%. The US seems to be where Industrias Bachoco should focus its attention. 
With over 300M customers, Industrias Bachoco could still increase its presence in the US. This is where most of the growth should come from in the years ahead. The competitive landscape of the poultry business in the US is completely different than in Mexico. If Industrias Bachoco is not able to sustain its market share, and revenues in the US continue to decline, that could spell trouble for the company. About 25% of the sales are in the US market.
Final view on Industrias Bachoco
Given the lack of undervalued stocks across the North American markets, Industrias Bachoco has a very compelling valuation. Management has been conservative when it comes to deploying capital, and this could be hurting the stock price. Although the poultry business is not a high-growth sector, Industrias Bachoco has steadily and consistently grown over the past decade. Its footprint on the Mexican and US markets is considerable. Having most of its operations in Mexico is a great advantage. Industrias Bachoco is able to have access to cheaper labor, and have considerably lower operational expenses than competitors.
Considering that chicken shortages might continue into 2022, the stock has a great risk/reward profile, making it a compelling deep value investment. Investors are essentially buying the company for half of its market cap, due to the large cash position. At the same time, they get a ~2% dividend yield, while they wait. 
We are long IBA. Read our disclosure.
Featured image source: Bachoco