Iamgold (NYSE: IAG) is currently undervalued. When looking at its balance sheet, the company holds $890 million and its current market cap is $1.66 billion. Meaning that 53% of its market cap is actually cash and some short-term treasuries. Since it is based on the results at the end of 3Q, cash and cash equivalents are even higher right now.
According to the most recent presentation by the company, cash at the end of December 2020 was $986 million. From its peer group, IAG has the best future outlook. It currently mines  653,000 ounces per year, but management is expecting that amount to increase to 1-1.3Moz until 2024. Meaning an increase of over 53% to roughly 100%.
IAG has a well-diversified portfolio, its exposure to South America and Africa is quite high. That is another reason why the company trades at lower metrics than some of its competitors. Given the uncertainty of operating in those locations.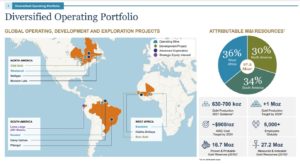 Source: Investor Presentation
IAG Production Increase
When compared with its peer group, IAG stands out as the stock with the best long-term prospects. The production increase is one of the catalysts that should drive its stock price higher. 
Source: Investor Presentation
IAG Reserves
The company doesn't have the largest reserves, but it is certainly the cheapest of its peer group when accounting for reserves.
Source: Investor Presentation
Comparison to Peers
Source: Investor Presentation
IAG Catalysts
Strong Balance Sheet
The company has the strongest balance sheet from its peer group. With a strong cash position that can withstand the CAPEX costs required to increase production until 2024. 
Management has issued senior notes at 5.75%, reducing the interest expense from the previous 7% notes. It has also extended the maturity, from 2025 to 2028, which will improve earnings and cash flow generation.
Source: 10-Q
Possible Acquisition Target
Given the cheap price at which the stock is trading, in comparison to the sector. IAG is a possible acquisition target for larger miners, the likes of Newmont (NYSE: NEM) and Barrick (NYSE: GOLD). During this bull run, precious metals will look at opportunities to increase their operations and reserves
Great Future Prospects
With production expected to double in the coming 3 years, if management succeeds and everything goes according to plan. Shareholders will definitely be rewarded and earnings,  revenues, and cash flows will certainly increase by the same factor. Investors expecting higher gold prices in the future should be rewarded if it materializes.
IAG Risks
Misstated Reserves and Future Prospects
Among the risks of owning IAG, is the possibility that the reserves or their ore grade are not in line with the future prospects. This can result in increased CAPEX and ultimately affect the overall mining cost per oz.
Price of Gold
IAG along with any miner or commodity-driven stock. Is highly dependent on the price of the underlying commodity. The price movement is highly correlated with the commodity price. Nonetheless, IAG has a $1,255/oz all-sustaining cost. Which is in the higher bracket when compared to its peers. Still, the price is competitive given that gold is currently trading slightly above $1,800/oz. Gold price is the main factor to determine the company's profitability. If the price retraces to $1,300/oz or slightly lower, IAG could be in a tough spot.
If Gold Prices Decrease
Miners can be a fairly complex stock to own. As opposed to most companies where products or services are sold and the process is just repeated over and over. Miners rely heavily on their reserves and the price of the commodity they mine. If for some reason the price of gold remains at these levels or lower the full value potential of the stock won't materialize. In essence, as miners operate, their reserves are being consumed along with the total value of the company.

Conclusion

If you expect higher gold prices, IAG seems like an attractive miner and an interesting gold play. Given the exposure it has to Africa and South America, the lower price and valuation is nothing more than the price in risk. Nonetheless, if management is able to increase production as it expects. Even if they achieve the lower range of the expectations at around one million ounces mined per year.
Given the current cost of mining, and even if the price of gold stays around $1,800/oz. Therefore, shareholders will be handsomely rewarded, with increased cash flows and earnings. Given the lower expectation of one million ounces in production by 2024, and all-sustaining costs of $1,300/oz. We can expect at least over $400 million in earnings by 2024. Putting the company at a forward price-to-earnings of just 4.
  We are long IAG. Read our disclosure.
Featured image source: Youtube