Ponzi schemes are definitely one of the most hated crimes that people have come up with as the financial market as a system has developed throughout the centuries. While the benefits that opening up the stock markets have posed to economies all over the world have been truly significant, the large amounts of money circulating in the system are far too attractive for people with ill intentions to pass up on. 
Fraudsters have created and developed the art of Ponzi schemes since they first burst into prominence because of the crimes committed by its namesake, Charles Ponzi (who will be further talked about in this article). 
Basically, Ponzi scheme perpetrators fool investors by luring them into "low risk, high reward" ventures that are run by a secret business idea that promises steady profits. In reality, there is no existing business to provide constant profits for investors. 
What actually happens is that the mastermind behind a Ponzi scheme will use the money from newer investors to pay back the older ones in partial payments — with the promise of full returns and higher gains at a later time.
The vicious cycle goes on and on until there is no more money to pass around. A common scenario that happens after is the people behind the Ponzi scheme will run off with the remaining money. 
To date, one of the biggest Ponzi schemes in history was operated by the financier Bernie Madoff who stole billions of dollars from naive investors. Besides Madoff, let's take a look at some of the biggest, most notorious, and most famous Ponzi schemes in history. 
20. European Kings Club
Operating from 1991 up to 1994, the European Kings Club was a large-scale Ponzi scheme in the areas of Switzerland, Germany, and Austria and was headed by the German citizens Harald and Damara Bertges along with Hans Günther Spachtholz. 
The organizers of EKC promised investors that they will receive profits of up to 70% via a process of buying "letters" that amounted to 1,400 Swiss francs per letter. The grand total invested into EKC via purchased letters was around 2 billion Deutsche Marks or around $1 billion in today's money. 
They took advantage of the public's negative opinion of the banking system. The Ponzi scheme came to an end when Swiss and German authorities arrested the trio, with Damara being sentenced to 8 years in prison along with Harald and Spachtholz being sentenced to 4 and a half years of imprisonment.
19. MMM 
Regarded as one of the largest Ponzi schemes in the world, MMM was a Russian company that was established by Sergei Mavrodi along with his brother Vyacheslav and Olga Melnikova. While MMM first introduced itself as a cooperative that dealt with computer imports, the company soon fell into hard times which forced Sergei's hand to dabble with more shady tactics. 
Promising returns that could reach up to 3,000% in gains annually, MMM sold shares at a staggering rate which was complemented by an aggressive marketing campaign that amounted to a total of 330 million rubles in expenses. 
However, the scheme would come to an end after Russia's Ministry of Finance called out MMM for having issued illegal unregistered securities. Mavrodi was arrested on tax evasion charges and MMM filed for bankruptcy on September 22, 1997. 
18. Moneytron
Moneytron was an investment firm that was created by Jean-Pierre Van Rossem, an educated economic expert. Using his highly esteemed education to his unfair advantage, Rossem had branded himself as a "stock market guru" and boldly claimed that he had a model that could predict the stock market. 
Earning around $860 million from the scheme, Moneytron's Ponzi scheme was eventually uncovered and Rossem was sentenced to five years imprisonment for fraud.
17. Caritas 
Caritas was the Latin word for "charity", but the company named after it was definitely not a charitable organization. Established by Ioan Stoica, an accountant in Romania, Caritas was branded as a 'mutual-aid game' that would help Romanians as the country was transitioning into capitalism.
Investors were promised up to 800% in gains in just three months which reeled in roughly around 4 million Romanians and possessed one-third of the country's banknotes at its peak. After accumulating around $5 billion, Caritas began holding back on paying its investors amidst investigations that the company was $450 million in debt. 
Stoica was sentenced to 7 years in prison for fraud but was able to reduce it to 18 months after making appeals. 
16. Greater Ministries International 
Greater Ministries International was a ministry established by Evangelical Christian Gerald Payne. Operating for four years, the Ponzi scheme promised its followers a doubled increase in their investments in just the span of 17 months. 
The total amount collected from the scheme was a staggering $500 million which was acquired from 18,000 investors. Most of the collected amount was hidden away and Payne was sentenced to 27 years imprisonment for his part in the fraud. 
15. Allen Stanford 
Allen Stanford, the founder of the financial services company Stanford Financial Group, had made profits by selling certificates of deposits to investors. While the financial instrument is relatively safe, the interest rates that SFG had promised were way above the average. 
Stanford had also misled his clients by using projected investment results as actual data. When the SEC investigated Stanford, it was found that SFG had fake financial statements and investment income. Stanford was sentenced to 110 years in prison for stealing around $7 billion from 18,000 investors. 
14. Bitconnect 
People had high expectations for Bitconnect, which was a cryptocurrency when it first came out. Tying its value to Bitcoin which was also skyrocketing back then, traders can exchange their owned Bitcoin for Bitconnect Coins which will earn daily compounded interests that can reach up to 1% (which was regarded as near impossible) via a "trading bot" which determined the value of the payouts. 
After failing to present legitimate evidence on user earnings and the legality of its issued securities, Bitconnect was branded as a Ponzi scheme and lost its coin value by over 92% — dropping to below $1 from its original value of $525.
13. Mutual Benefits Corporation 
Mutual Benefits Corporation was a Florida-based investment company that was headed by fraudster Joel Steinger. Dealing with viatical settlements, Mutual Benefits Corp. purchased the life insurance policies of elderly people and policyholders with grave diseases such as cancer and AIDS at a discounted price and sold off the death benefits of the insurance policies via shares which investors can place their money on with the promise of very high returns. 
Faking the health conditions of the policyholders, many investors were defrauded of their investments, and the total estimated amount stolen by the Ponzi scheme is around $835 million. Steinger was sentenced to 20 years in prison. 
12. Tom Petters 
Tom Petters owned Petters Group Worldwide which was basically a massive Ponzi scheme that stole hard-earned money from stakeholders such as pastors, missionaries, and hedge funds. 
Petters had defrauded investors into believing that his company bought retail products using the invested funds which would then be sold to discount retailers in order to generate high profits. 
As expected, the business model was a sham, and when the Ponzi scheme was uncovered, around $3.65 billion was stolen and Petters was sentenced to 50 years in prison.
11. Raymond James Financial Inc. 
While Raymond James Financial as a whole is regarded as one of the biggest banking institutions in America, the company faced controversies after failing to control its employee Dennis Herula from hugely participating in a Ponzi scheme that stole around $44.5 million from investors. 
He was sentenced to 188 months imprisonment after being charged with committing wire fraud. 
10. Lou Pearlman 
Lou Pearlman has been known to run one of the world's longest Ponzi schemes which lasted for around 20 years. Pearlman had created fake companies that promised high returns to investors. His scheme was able to survive for a long period of time because one of his imaginary companies, TransCon Records, actually earned profits from signed artists such as NSYNC and Backstreet Boys. 
Pearlman used the fame to his advantage in order to keep his Ponzi scheme running. He had stolen around $300 million from investors and was sentenced to 25 years imprisonment. Pearlman died in 2016. 
9. Reed Slatkin 
Reed Slatkin, the founder of the Internet provider EarthLink, is remembered for establishing one of the biggest Ponzi schemes in the United States. 
Slatkin had created the Reed Slatkin Investment Club which promised annual returns of up to 24% via shady business plans such as investing in a failed theme park. Slatkin was able to collect $593 million from his schemes. He was sentenced to 14 years in prison.
8. Scott Rothstein 
Scott Rothstein had duped many investors into placing their hard-earned funds on his scheme that dealt with issuing shares in phony lawsuit settlements. 
Promising his investors that they would earn big from the cases if settled, the total amount that he was able to steal from funders amounted to $1.2 billion. When the Ponzi scheme was uncovered in 2010, Rothstein was sentenced to 50 years in prison.
7. Osvaldo and Enrique Villalobos 
The Villalobos Brothers — made up of Osvaldo and Luis Enrique — were notorious for their Ponzi scheme that robbed retirees of around $400 million. They promised 3% monthly returns on a minimum investment of $10,000. 
The money was just moved around from investing in various shell companies and no actual profits were made from actual business ventures. Osvaldo was sentenced to 18 years in prison and Enrique has yet to be arrested.
6. Sarah Howe 
Sarah Howe was known for perpetuating Ponzi schemes during the 19th century. She established The Ladies' Deposit Company which targeted "unprotected women" (women who had no financial experience). 
Howe had promised 8% monthly returns (with the first three months of returns being given in advance). However, the bank was essentially a Ponzi scheme that stole over $500,000 ($14 million in today's money). She served three years in prison.
5. Dona Branca 
Maria Branca dos Santos, popularly known as 'Dona Branca', was a Portuguese fraudster who created a Ponzi scheme in Portugal during the 1970s. Her investment plan offered people a 10% monthly interest and she was called by many "the people's banker". 
After the Ponzi scheme was busted and she was arrested in 1984, Branca was sentenced to ten years in prison. 
4. Business Consulting International 
Described as the United Kingdom's biggest Ponzi scheme, Business Consulting International was a sham investment company established by Kautilya Pruthi with business partners Kenneth Peacock and John Anderson. 
BCI would ask for money from willing investors to support "distressed businesses" that cannot borrow funds from banks. In return, these investors were duped to believe that they will gain high-interest rates of around 4% to 20% in short periods of time. Around £69 million was stolen. 
3. Ron Rewald 
Ron Rewald was a Ponzi scammer who established a Hawaii-based investment company named 'Bishop, Baldwin, Rewald, Dillingham and Wong'. Rewald had promised investors that funds of up to $150,000 were guaranteed by the Federal Deposit Insurance Corporation at an average annual return of 20%. 
As the Internal Revenue Service was about to expose Rewald's Ponzi scheme in 1983, he attempted suicide. Rewald survived and was sentenced to 80 years in prison.
2. Bernie Madoff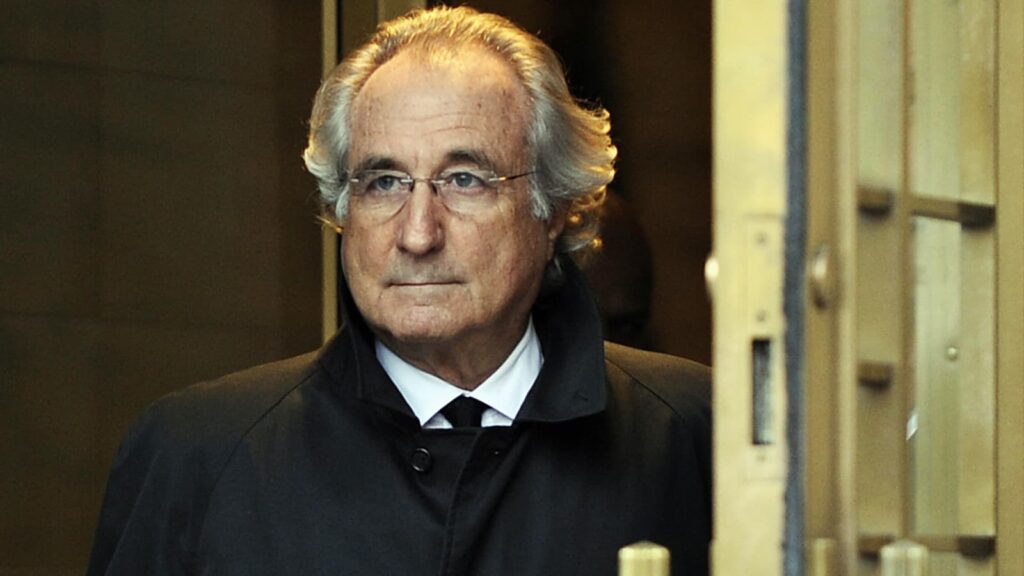 Bernard "Bernie" Madoff was known for creating the largest Ponzi scheme in history. He had established Bernard L Madoff Investment Securities which was investigated by authorities several times for reporting massive financial returns. 
Many fell victim to Madoff's Ponzi scheme and he ran away with a whopping $64 billion. Some investors who were scammed include Kevin Bacon and prominent banks such as HSBC Holdings. Madoff was sentenced to 150 years in prison. 
1. Charles Ponzi 
The namesake of the Ponzi scheme, Charles Ponzi was an infamous Italian fraudster who reached the height of his notoriety during the 1920s. Noticing the potential profit he can gain from the postal service business, particularly concerning international reply coupons (IRC) and postage stamps, Ponzi concocted a sham investment firm to lure investors into funding his so-called "business". 
Returning profits to earlier investors using funds from later ones, Ponzi successfully executed one of the world's first Ponzi schemes. Ponzi scammed his investors off a whopping $20 million ($271 million in today's money). 
While he served a relatively short prison sentence, Ponzi died in poverty after living a later life riddled with illness and heartbreak.
Read Also: