Financial literacy books can completely change your life for the better. Do you want to take control of your life? Are you struggling financially and looking for a way out? Are you in need of financial advice? These financial literacy books will transform your life! These books will help you so much, you'd be wondering why they didn't teach you that stuff in school. 
Whether you want to be financially literate, trying to get yourself out of a tight situation, or looking for ways to build wealth. Here are the best, most enjoyable, and most applicable financial literacy books for you no matter your age!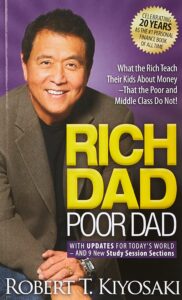 Rich Dad Poor Dad by Robert T. Kiyosaki
This is the #1 bestselling financial literacy book recommended by self-built millionaires and billionaires. This is actually a very interesting book about how Kiyosaki had two dads. 
His poor dad, who is his real dad, was well-educated and hardworking, but never made enough money to have a fulfilling life. His rich dad, who is his father's friend, couldn't even graduate high school but knew what to do with his money and build wealth for himself. Kiyosaki learned from his rich dad and built wealth for himself to get where he is now.
This book teaches you the importance of financial literacy, how to manage your assets, where to invest your money and build wealth. A great lesson in this book is to know what to do with your money. One of them is to buy assets and not liabilities. Assets build your wealth without cost, while liabilities have a cost, which means it's much harder to build wealth through them.
There is much to learn in Rich Dad Poor Dad and as one of the most popular financial literacy books, you should give this one a try!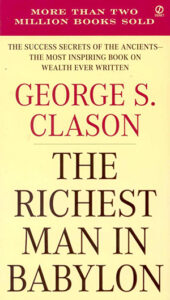 The Richest Man in Babylon by George S. Clason
What's so amazing about this financial literacy book is it's partly fictional, but super relatable so you can learn from it without getting bored. The lessons in this book are written like a story, but as you read, you are unknowingly gaining financial knowledge and improving your financial literacy.
Babylon, the richest city in Bible times, had an abundance of parables and wisdom of wealth. Clason wrote about these 4,000-year-old pieces of financial advice. This book teaches you how to manage your wealth, keep your wealth and gain wealth. 
It's basically about the richest man in Babylon who was not wealthy and came from nothing but built his wealth using seven principles he got from a traveling merchant. 
There is a lot to learn from this book. It's much like listening to your grandparents talking about their past and how they worked to get where they are now. An inheritance of wisdom, if you will.
I Will Teach You to Be Rich by Ramit Sethi
This is the ultimate, step-by-step, practical handbook that literally teaches you how to be rich. It is among the best financial literacy books ever published. It's a guide that will lead you to financial success and help you be financially literate.
This financial literacy book is all about giving insight on how to enjoy your money and not feel guilty when you spend it. It teaches you how to manage your money, has plans for your financial future, and live a more fulfilling life. It also teaches you the basic principles of spending and saving money.
A really good thing about this book is it has a good sense of humor. You won't be easily bored reading about all of that financial advice because of its charming and engaging writing style.
Think and Grow Rich by Napoleon Hill
Think and Grow Rich is both a self-help and financial literacy book. This is also where the line "Anything the human mind can believe, the human mind can achieve," was born. This is a highly recommended book for anyone looking for ways to think and grow as the wealthy do.
The self-help part of this book is that it teaches you how to think and live a fulfilling life. Since the way you think and grow rich is also related to the way you live, this book not only gives you superb advice on how to live and find your purpose, it also tells you how to acquire wealth and how to spend it, so that you don't go down the rabbit hole of guilt and debt.
Yes, this is an all-in-one truly life-changing book that everyone should read!
Broke Millennial by Erin Lowry
As the name suggests, this is a highly recommended book for people fresh out of college. If you're confused about financial jargon, have absolutely no idea how to manage your finances, and are financially illiterate, then this is a must-read for you!
This book teaches you what to do with your money, where to put it, how to save it for the future, retirement plans, how to share it, and pretty much the basics of finances for beginners. 
In this book, Lowry writes about how to get your financial life together. With this book, you can learn how to do financial adulting. She has a fun, humorous, and empathetic writing style that makes sure you're comfortable and ur pressured when reading. This book will be like your best friend who's ready to support you when you don't know what to do next. 
The Millionaire Next Door by Thomas J. Stanley 
This book is a compilation of research about the millionaires of America. They studied their spending habits, their lifestyles, and their behaviors. This book explains what turns millionaires into millionaires. 
Stanley wrote about how you don't have to be the founder of a giant company or business to be financially stable and have a fulfilling life. Everybody thinks that to be a millionaire, you need to have millions of dollars coming in every month or you need to own a luxurious mansion and a fancy sports car. Stanley shows that this is not the truth. Your next-door neighbor could even be a millionaire, but not look like it!
This book teaches you about how you should be spending your money and what you shouldn't be spending your money on. It also tells you all about shadow wealth, which could be a million dollars in your retirement or savings account. Your next-door neighbor could have a million dollars in their savings account and not look like it. This is the message that Stanley is trying to impart. 
This book is recommended for middle-class people who want to enjoy, save and build their wealth while living a fulfilling life. By knowing how to spend your money, you could be a millionaire!
The Total Money Makeover by Dave Ramsey 
This is a spectacular financial literacy book on the truth of money and how to handle debt! This book features a proven and tested debt plan that is sure to get you back on your feet financially. Most of Ramsey's work is about the art of getting out of debt. 
In this book, Ramsey explains the five baby steps. These effective baby steps are what will either get you out of debt or help you stay out of debt. A really helpful piece of advice that he wrote about was to pay off your small debts first before you deal with your big debts. 
It's like defeating the final boss in a game, but he spawns a few lower-level enemies that will distract you from attacking him. Who will you fight first, the final boss or the distractions? The distractions, of course. Why? The distractions would deal more damage in the long run than the final boss. 
This book is highly recommended for people who are trying to get out of debt and build a strong financial future or for those who want to avoid falling into debt but instead build their wealth. You can start Ramsey's plan as early as now. Many have suggested that it's best to start as early as possible, so you can secure a financially stable future for yourself. 
Your Money or Your Life by Vicki Robin 
If you want to have financial freedom and enjoy a guilt-free life, then this is a must-read. Robin's book features a 9-step plan for financial freedom. To live a fulfilling life, you don't need to live it lavishly or have millions of dollars to spend. 
This financial literacy book teaches you how to control your spending habits. It will completely transform your relationship with money. Not only will it teach you the basic principles of financial management, but it also explains how to learn from your past financial mistakes and decisions. Robin also explains how to make even better decisions in the future, so you can have financial stability.
Robin explains that there should be a balance between work and life. Your lifestyle and behavior is important to factor when it comes to living a fulfilling life. By having a work-life balance, you can have the best of both worlds: financial stability and happiness. 
This book is for you if you want to learn how to be both happy and financially free. Robin's 9-step plan will help you take control of your life and change your relationship with money.
Financial literacy books are the key to financial freedom
Take the advice of these books and you're well on your way to the road of financial freedom and stability! From these valuable pieces of advice, I think we can all agree that being financially literate, having a healthy work-life balance, and knowing how to manage your finances are the key factors to building and saving wealth. 
You may not get it right the first time, but there's always room for learning, so don't give up. Keep pushing on and eventually, you'll be able to reach your financial goals too!
Image source: uusa