If you are considering investing in Wayfair it is important not only to analyze the company but also to understand who are the largest Wayfair competitors. Wayfair is a furniture and home decor retailer that has been in business since 2002. The company has seen tremendous success in recent years and is currently valued at over $4 billion. 
Despite that, there are several Wayfair competitors that investors should be aware of before investing in the stock. 
We will take a look at the largest Wayfair competitors and explore what makes them different from the online giant. 
Make sure to read until the end as we reveal a pre-IPO stock that has the potential to disrupt this entire industry. You don't want to miss out on this special company. 
Wayfair (NYSE: W) 
Market cap: 13.72B 
Competitive advantage: Wayfair's competitive advantage is its ability to offer a wide variety of products, including furniture, home decor, and more. Wayfair is also able to offer competitive prices, due to its large inventory and low overhead costs. 
Wayfair has also begun its digital showcase capabilities, venturing into augmented reality marketing. This shows how the company is innovating to improve upon its service by offering customers a unique experience. 
Wayfair is a brand that has been able to build a strong following among furniture and home decor shoppers. The company has an impressive selection of products and excellent customer service. 
Publicly Traded Wayfair Competitors 
Wayfair is not alone in its pursuit of business within the home furnishing space. Let's explore Wayfair's three biggest competitors that are publicly traded. 
Amazon (AMZN) 

Overstock (OSTK) 

Bed, Bath, And Beyond (BBYB) 

Home Depot (HD)
Amazon (Nasdaq: AMZN) 
Market cap: 1.57T 
Wayfair's largest publicly traded competitor is Amazon. Although Amazon does not focus on selling furniture and home decor specifically, it offers a wide variety of products that Wayfair does not. 
Competitive Advantage: Amazon also has a strong brand name and is known as the one-stop-shop of e-commerce, customers may be tempted to skip Wayfair and go straight to this online retailer to get everything they need. 
Amazon also has a large network of warehouses throughout the world to help ensure fast delivery. With a vast amount of money coming in, they can quickly innovate and improve upon their home furnishing service if they choose to do so. 
What is Wayfair's competitive advantage over Amazon? 
Wayfair has a competitive advantage over Amazon because it is specifically known for home furnishing. Its brand is known to be more focused on this area and customers can assign them as the authority in this space. Amazon can be seen as a general store, not specializing in any one thing. 
Although Amazon can out advertise Wayfair in terms of budget, Wayfair can focus on marketing its brand as a friendly online place to make the customer's house into a dream living condition.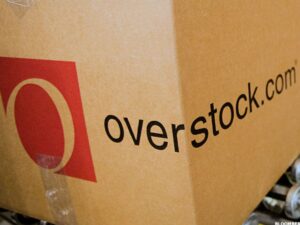 Overstock (Nasdaq: OSTK) 
Market cap: 2.32B 
What is another company like Wayfair? 
Overstock is the most similar company to Wayfair on this list. Overstock is not quite as well-known as the other online retail companies, but it does have a sizable market share. 
One of the things that set Overstock apart from other Wayfair competitors is its focus on selling surplus inventory at discounted prices. This is very appealing to budget-minded shoppers. 
Competitive Advantage: Overstock.com offers a similar product selection to Wayfair.com. Overstock also offers coupons that can help attract bargain shoppers looking for deals. 
Overstock is much smaller in terms of market cap compared to Wayfair and they offer a similar amount of items for similar prices. They are not as big a competitor as Amazon but they are actively competing for market share. 
What is Wayfair's competitive advantage over Overstock? 
Wayfair is a better-known brand with more users. This network effect of shoppers can overtake Overstock's influence in this market. Overstock also has more bad reviews for customer service than Wayfair. This could drive more of Overstock's customer base away from them towards Wayfair.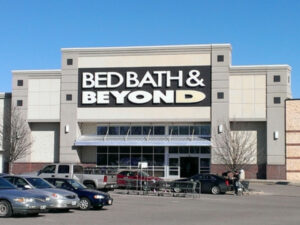 Bed, Bath and Beyond (Nasdaq: BBBY) 
Market cap: 1.56B 
Another Wayfair competitor is Bed, Bath, and Beyond. This company has a strong brick-and-mortar presence, with over 1000 stores across the United States. Bed, Bath and Beyond also have an online store, which offers a similar product selection to Wayfair. 
Competitive Advantage: One of the main advantages that Bed, Bath and Beyond has over Wayfair is its physical stores. Wayfair does not have any brick-and-mortar locations, so shoppers may be hesitant to purchase furniture and home decor from a company that they cannot see in person. 
Being able to sit on the furniture and feel the material helps people verify that their choice is going to be worth it. Those that enjoy the physical shopping experience may prefer going into retail stores rather than a quick online checkout.
Bed, Bath and Beyond is a well-known brand for home furnishing. Although they are newer to the e-commerce business model, they are adapting quickly. This shows that this company is willing to move its model most efficiently. It proves that they are still in the running of being the most competitive company to Wayfair.
What is Wayfair's competitive advantage over Bed, Bath, and Beyond? 
Convenience. Wayfair offers a more convenient shopping experience than Bed, Bath, and Beyond. Wayfair customers can shop from the comfort of their own homes, and they do not have to worry about lugging heavy furniture items around. In addition, Wayfair offers free shipping on orders over $50, which makes it even more convenient for shoppers. 
Wayfair's main advantage is its focus on providing a more personalized shopping experience for customers. Wayfair allows customers to filter search results by room, style, and color, which makes it easier for customers to find what they are looking for. 
They also offer a wider selection of items than Bed, Bath, and Beyond. These features make Wayfair a more attractive option than Bed, Bath and Beyond for online shoppers. 
Home Depot (NYSE: HD) 
Market cap: 2.32B 
Home Depot is a popular brand in home improvement and home furnishing with a large brick-and-mortar presence, with over 2000 stores across the United States making it one of the largest Wayfair competitors. Home Depot also offers an online store, which offers a similar product selection to Wayfair. 
Competitive Advantage: One of the main advantages that Home Depot has over Wayfair is its physical stores. Wayfair does not have any brick-and-mortar locations. Home Depot also offers more tools for DIY (do-it-yourself) projects. It's a better place to shop for customers that are creative and want the material and tools to create home improvements. 
Home Depot has another competitive advantage because they have a repeat customer base on local contractors. Those that are looking for a specific custom-designed home furnishing will not find what they are looking for at Wayfair. There is not much opportunity for customers to keep returning to Wayfair each month as there isn't a need for new furniture on a repeat basis. 
What is Wayfair's competitive advantage over Home Depot? 
Home Depot is a popular place for contractors to buy materials, not families looking for furniture. Although they do have furniture, it is not a tailored experience for retail shoppers. Home Depot is a well-known brand for home improvement. 
They have been around since 1978 and have a lot of experience with this market. However, they are not competitive at e-commerce as many of their materials are too heavy to be profitable if shipped individually. 
Wayfair is likely to be more competitive than Home Depot in the online shopping market. This is especially true with word-of-mouth marketing through social media for home decor lovers rather than home improvement builders. 
It's common to see designers organically posting about their favorite home furniture they bought from Wayfair on social media sites like Instagram and Pinterest. While it would be rare to see a contractor sharing the floor tiles they bought from Home Depot through online platforms. 
Wayfair targets a different customer base but has also begun offering home improvement items such as tiles, wallpapers, and faucets which could be a problem for Home Depot. 
A private competitor and a pre-IPO disruptor 
Publicly traded companies are not the only ones that are taking a part in the TAM (total addressable market). Legacy brands such as IKEA are still something to watch out for. If they ever choose to go public, their reputation can be a serious competitor to Wayfair. 
Ikea 
The biggest private competitor to Wayfair is probably IKEA. IKEA operates in a very similar space and has a similarly large customer base. However, IKEA has been around for much longer than Wayfair and has a well-established brand. 
Wayfair may have an advantage over IKEA in terms of online sales, but the Swedish company is still a major threat. Ikea offers a unique retail experience that is a pleasure to enter. Wayfair may struggle to be able to emulate this type of experience. This company deserves to be on this list as it is still a strong brand name as a home furnishing company. 
What is Wayfair's competitive advantage over Ikea? 
Wayfair's competitive advantage is its ability to have a stronger online presence. Its online experience is also curated for individual shoppers. Ikea can be known for its fun retail shopping but it can take the entire day to get through the store. 
Ikea is quick and convenient and offers the same upsell opportunities with recommended products. The long trail where customers journey through the store can be adventurous but exhausting. Wayfair is better if you know what you want and don't want to spend much time and energy to get it. 
Let's learn more about a moderately unknown competitor that could give Wayfair some challenges as it prepares to become a publicly-traded company. 
Houzz 
Wayfair's competitive landscape changed drastically over the past year. One of Wayfair's private competitors, Houzz, raised $400 million in Series D funding led by Sequoia Capital at a valuation of $2 billion in 2017. This event put Wayfair on notice that it would face increased competition from a well-funded competitor. 
Another key competitor to Wayfair is Houzz. Houzz is a home design and remodeling platform that has been growing rapidly in recent years. Houzz has a large and engaged community of users, which gives it a strong competitive advantage. 
The company was founded in 2009 in Palo Alto, California. In 2017 it was valued at around $4 billion after a private funding round led by investors from ICONIQ Capital. Houzz had 40 million users in 2019 and implements a unique software that pairs the furnishing sales business with a technology connection economy. 
Houzz offers a more personalized experience than Wayfair. Wayfair could focus on creating a well-rounded offering if they want to compete with Houzz. This is because Houzz offers services where they connect users of their platform with service-based professionals such as: 
Architects and Building Designers 

Design-Build Firms 

Home Builders 

General Contractors 

Interior Designers and Decorators 

Landscape Professionals 

Cleaners 

Electricians 

Plumbing 

Air Conditioning and Heating 
Houzz's approach is clever because they have created a platform where you can both buy the furniture you need and find the perfect team to construct your dream home. 
Much like other connection-based companies like Fiverr and Uber, this company may be worth investigating as an investor. Its business model of offering both services in connecting professionals with buyers and selling furniture in an efficient e-commerce model is a unique proposition. It also helps them to save money on brick-and-mortar retail stores. 
Wayfair could look to emulate a similar connection economy in the future but they should consider doing it soon as Houzz is looking to IPO in early 2022.
Wayfair Competitors Summary
Finally, it's worth mentioning that Wayfair does not have a monopoly on the online furniture market. There are several other publicly traded Wayfair competitors out there, including Amazon, Overstock, Bed Bath and Beyond, Home Depot, and Houzz. 
However, Wayfair's competitive advantage has positioned itself in a unique way going against each company. 
Amazon is the biggest company on the list and can be seen as the biggest competitor to Wayfair. However, the newer company Houzz may emerge as the toughest competitor with their unique business model of connecting service professionals to homeowners. 
Wayfair has proven to be a company that does not shy away from innovating themselves so it will be interesting how they compete as Houzz enters the public markets. 
In conclusion, those are the largest Wayfair competitors. As you can see, they each have their own strengths and weaknesses. It will be interesting to see how Wayfair fares against them in the years ahead.