One of the ways to improve your trading is to learn from the best traders, and there is no doubt that reading Jesse Livermore books is one of these ways. His extraordinary life allowed him to build one of the largest fortunes ever. His trading strategy and the way he controlled his emotions is something we should all learn from. Here are some of the best Jesse Livermore books to help you in your trading journey.
These two works credited to the famous Jesse Livermore are brought together in one collection for the first time. With a new prologue by Juliette Rogers. Both offer fascinating insights into Jesse Livermore's life and times. As well as the factors that contributed to his success. 
They are still considered classics and must-reads for any newcomer to the realm of speculating. 
The two volumes in this series were published in the early 1920s when Livermore was already well-known but still on his way to becoming the richest man in the world. The tragedy of World  War I was coming to an end, and the United States had effectively transformed from a military powerhouse to a peacetime powerhouse. 
Telephones, radios, cars, and movies became popular among Americans. A renewed infatuation with celebrities stretched beyond film stars and athletics to the affluent and powerful. People were curious about how Wall Street geniuses like Jesse Livermore, and wanted to know how they worked their magic. 
The first book known as Edwin Lefèvre's Reminiscences of a Stock Operator provides valuable insight while also contributing to the Livermore mystery. Reminiscences is the first-person story of Larry Livingston. A fictitious investor whose life experiences coincide exactly with those of  Jesse Livermore. 
Edwin Lefèvre provided his audience a view into the high world of Wall Street leaders as a financial reporter, biographer, and writer. He published eight more works, however,  none of them were as popular as Reminiscences of a Stock Operator, which has been in publication since 1923 and has been translated into a variety of languages. 
Former Federal Reserve Chairman Alan  Greenspan referred to it as "a fountain of investment insight" at one point. The book itself, in classic Livermore flair, is a bit of a mystery. Many readers have speculated throughout the years that the book's author was not Lefèvre, but none other than Jesse  Livermore. 
Edwin Lefèvre and Jesse Livermore knew each other
The two individuals had known each other for a long time and may have shared helpful knowledge throughout the years. According to a 1967 biography, soon before his death,  Livermore admitted working on Reminiscences with the help of Lefèvre, who functioned as  "editor and coach". 
The biographer received this information secondhand and without confirmation, thus the mystery remains. When windfalls are made or old scores are settled,  however, alert readers may notice the narrator's exceptionally happy tone, implying a more personal than professional connection.
Livermore continued to add to his reputation in the years after these publications. When wheat prices soared in 1924, he lost $3 million. But when the market crashed the following year, he recovered his losses and made a huge profit. 
Obviously, markets were prone to manipulation in this period of lack of regulation, and Livermore dubbed the "Great Bear of Wall Street", didn't steer away from it. Readers of the book believe that it is a really amazing, informative, and entertaining book as well.  It is one of the most favorite books for most readers because it is not only about trading but also the story of a legendary trader. It is highly recommended for those who seriously want to be a trader.
This book consists of several interviews that were conducted by the financial reporter Richard D.  Wyckoff with the stock trading legend Jesse Livermore. He shares the strategies and ideas of Jesse Livermore in stock trading. 
Among the things he covers in the book are: 
How to determine which stocks to trade and when to buy or sell them 

The philosophy of trading and how to build a winning attitude  

Creating a good investment plan that is not based on tricks and gimmicks 
Jesse Livermore was well-known for creating and losing multiple multimillion-dollar fortunes. As well as short selling during the stock market crises of 1907 and 1929. Aside from his success as a securities trader, Livermore shared his trading philosophy. It included expanding the size of one's position as it moves in the correct direction and eliminating losses as rapidly as possible. His whole approach to trading was based on the common expression "the trend is your friend".
Jesse Livermore's trading strategies 
The information in these books represents  Livermore's collective stock trading expertise. The chapters in the book include: 
Preparing for the day's work arrangement of the trading office  

How to read the tape commitments and limits of risk  

How to keep capital turning over  

The kind of stocks in which to trade  

Pyramiding and much more 
Most of the traders that read this Jesse Livermore book learn so much that they want to keep it on their bookshelves forever. According to them, it is better to disregard all other stock trading and day-trading books in favor of this one. Because it explains how Jesse Livermore figured out the way of trading the hard way and developed a simplistic system of cash management and trade timing. 
It is worth reading since it provided a concise review of Livermore's methodology as explained by the topic and author. Also explains some of his trading habits or routines. Not as technical as previous Livermore publications, but a look into his philosophy and basic trading tactics. Such as cutting losses promptly, adding to winnings, choosing the strongest companies in the strongest industries, and so on. It is among the best Jesse Livermore books out there, and every trader should read it.
A stock market legend, Jesse Livermore was an outcast. An individualist,  and the most profitable stock trader in history. How to Trade Stocks was written soon before his death in 1940. It provides traders with their first explanation of Jesse Livermore's trading method. 
Written in Livermore's distinct, no-nonsense manner, it combines rich autobiographical and historical insights with step-by-step instructions on observing the market and stock movements. The book includes extensive insights into how Jesse Livermore conducted tape reading.
Examining the most important industries, timing the market monetary, administration, and emotional management. Richard Smitten, a trader, and top Jesse Livermore specialist gives new insight on his philosophy and methodology in this revised version.
Jesse Livermore was one of the most successful traders of all time. It had a net worth of  $100 million at its best in 1929. Jesse Jr., Jesse Livermore's son, recommended to his father in late 1939 that he should publish a book. Sharing his abilities and knowledge in trading in the stock and commodities markets. Duell, Sloan, and Pearce finalized and released the book in March  1940. 
Jesse Livermore shares his wisdom
His tactics were still novel and contentious during that period, and they garnered mixed evaluations from stock market experts. How to Trade Stocks provided traders with their first look into that notoriously tight-lipped operator's trading platform. 
Published in Livermore's  distinct, no-nonsense manner, it combines rich personal and historical insights with step-by-step  instructions on:
Reading market and stock behaviors 

Analyzing leading sectors 

Market timing 

Money management 
Smitten gives invaluable insights into the Livermore trading formula. As well as recommendations on how to integrate it with modern charting methods, based on Livermore's private files and conversations with his relatives. 
The Livermore Market Key is also featured,  which was the first and still remains one of the most reliable systems of tracking and documenting market movements. Jesse Livermore is a stock market legend who built and squandered four stock market fortunes over the course of 40 years.
His groundbreaking timing tactics, money management techniques, and high-momentum trading strategy are as relevant now as they were three-quarters of a century ago. This is one of the best Jesse Livermore books that every trader should read.
Richard Smitten's Jesse Livermore: World's Greatest Stock Trader is the first comprehensive biography of the legendary trader. Despite the fact that he died more than half a century ago, today's top traders rank Jesse Livermore as the greatest trader of all time. 
With his novel timing methods, money management processes,  and high-momentum strategy to stock trading, Livermore, a secretive loner, misanthrope, and infamous miser, changed the business. Livermore and the time in which he lived and worked are vividly depicted in Smitten's book. 
He brilliantly weaves together eyewitness accounts from those who knew Livermore with riveting anecdotes of dramatic love relationships, shootings, and suicides. As well as a thorough investigation of the trading strategies that gave Livermore several million during his lifetime. 
The author has done an excellent job of weaving trading principles into the tale of Jesse Livermore's life. This not only makes the book more engaging, but it also provides real-life examples of the key trading skills, distinguishing this book from a dull textbook. 
Jesse Livermore was so sure of the trading talents that he could lose all of his money and then recoup it all through trading. He was a multi-millionaire during a period when one million dollars was worth 100 million.
J.L.'s narrative has numerous life lessons, and this book offers insights and facts not found in other significant biographies. Livermore was brilliant at explaining anything he wanted to convey, and he, of course, remains a mystery. 
This book covers Livermore's life more from beginning to end than others, making it a must-read for anybody who likes Reminiscences. To enjoy the merchant tale from Reminiscences, one must first understand the setting.
Some readers kept remembering the beginning of the novel and how Jesse Livermore had so much hope put in him by his parents. He was bright, and his mother assisted him in escaping a hard life of farming. But the life he constructed was also challenging. All of the focus is on his wealth, yet this book captures brief snippets of his anguish.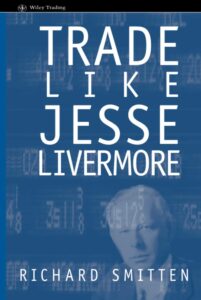 Jesse Livermore began his career in 1892. However, it is still regarded as one of the world's finest traders. Livermore has always been a contentious character. Both in life and in death and his tactics are a model for traders of all generations. 
Jesse Livermore discovered that stocks and stock markets move in a sequence of repeated patterns. After 45 years of trading and tape reading. He then created a set of one-of-a-kind tools, applying hidden algorithms and equations to recognize and analyze stock movement with amazing accuracy. 
Author Richard  Smitten discusses the technical components of Jesse Livermore's trading method in Trade Like Jesse Livermore. Telling readers how they might apply these tactics to achieve the success  Livermore once had.  
Trade Like Jesse Livermore focuses on every part of Livermore's trading strategies. From recognizing market behavior and patterns like top-down and tandem trading to paying special attention to indications like one-day reversals and spikes. Readers may use this book as a guide to learn how to trade effectively without fear or greed. This is one of the best Jesse Livermore books to trade like a legend.
The Best Trading Lessons of Jesse Livermore compiles the most important trading lessons from  Jesse Livermore's Reminiscences of a Stock Operator in a single book. Extracted and labeled for ease of use, with a brief commentary after each lesson. 
For new traders, this is a must-read, and it remains one of the best Jesse Livermore books. Readers consider that book includes a mental blueprint of the journey ahead, what to concentrate on when trading and learning, positioning, charting and constructing, and clarity of thinking.
This is more like looking at trading through the lens of a very great structure and wanting to know what the foundation is and how it was created. Sometimes the simplicity of ancient concepts is amazing. One of the best Jesse Livermore books that compile all of the lessons traders should learn.
Reminiscences of a Stock Operator is the fictitious history of possibly the most renowned stock trader of all time - Jesse Livermore. It includes new commentary and reflections on his life and times. This augmented version bridges the gap between Edwin Lefevre's dramatized depiction of  Livermore's life and the book's true, historical events, places, and people. 
It also details the many trading tactics utilized by Livermore through his life, as well as his psychological growth as a  trader and the lessons learned via difficult situations. It analyzes the tactics of famed trader Jesse Livermore and discusses how they might be used in today's markets. 
Providing accurate information about the actual firms Livermore traded in, as well as the people that helped/hampered him along the road. Describes the organization and operations of Livermore-era marketplaces, such as bucket shops. 
More than 100 pages of fresh content are included. Reminiscences of a Stock Operator has been in print for almost 70 years since traders and investors keep learning from Livermore's achievements and apply them to their own trading. This annotated edition will carry on the tradition.
Image: koni