An imposter syndrome book can help you deal with how you perceive your own success, and how you project it in relation to others. There are multiple causes associated with this feeling, and it might be difficult to overcome. However, reading an imposter syndrome book is perhaps one of the best ways to overcome this feeling of doubt. Here are some of the most acclaimed imposter syndrome books to help you deal with this, and all the problems that may arise from imposter syndrome.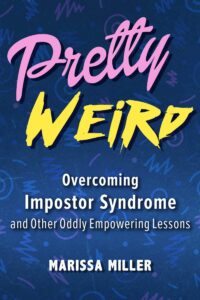 The author, Marissa Miller is a well-known Jewish writer and editor. She initially grew up in a Jewish city before moving to Montreal. The adjustments she had to take from being immersed in a Jewish to a Catholic environment made her feel out of place and weirder than ever. 
She learned to adapt to the new environment she was in and became far from being a traditional Jewish girl. Her confusion as a teenager is what inspired her to write. She started writing poems on MySpace and articles for her school newspaper. 
Later on, she transitioned to a journalism career, and also provided lectures in universities. She covers different topics from social gender issues, travel, food and nutrition, technology, fitness, beauty, and everything under the sun. 
Inspired by Marissa Miller's personal story 
Pretty Weird talks about real-life, relatable stories of how Miller struggled to fit in while growing up, just like any normal teenager out there. Everyone is weird in their own little way but being honest enough to admit and talk about it is definitely something you do not see every day. 
She emphasizes that we should never have to pressure ourselves to fit in any environment. You just have to go for it and be your truest self while doing all the good stuff your parents wished you would do. Additionally, if you feel alienated around a group of people, then they are not your people. 
The imposter syndrome takes away the ability of a person to recognize their own success. Feelings of self-doubt can lead to anxiety, fear, and less productivity. Early detection and intervention minimize the consequences and lost opportunities.
Miller's authenticity in writing this book is what makes it really interesting. It feels like getting to know a perfect stranger who shares her life experiences with fantastic humor while learning life lessons along the way. 
There are tons of books that cover topics about imposter syndrome that are written from a clinical perspective. This is a new take on the topic and an easily relatable book definitely worth reading. 
The author behind this unconventional book is no other than Ash Ambirge, also known as a millennial modern-day blogger. She is an American creative writer and entrepreneur who is known for her voice-driven storytelling. 
The low moments in her life led her to discover her inner strength and capabilities. Her life experiences and misfortunes have taught her a lot of life lessons and how she survived them. The reason why she came up with The Middle Finger Project is to inspire and teach women how to empower themselves.
The Middle Finger Project is all about being funny and fearless. Ambirge gives honest advice to women in finding their voice. It teaches you the road to be independent while taking risks. Being courageous in living life's circumstances under their own authority. 
Ambirge advises women to just be themselves even in difficult situations and how to combat perfectionism. She provides tools, the proper mindset, and shows her readers the path to happiness, independence, wealth, and adventure.
The author, Pauline Rose Clance is a certified psychologist from Atlanta who has been in the field for over 30 years. She helps people who are struggling and those who have coping abilities. Using their inner strength and outer resources to gain more confidence. 
She is an international lecturer. Being featured on television, magazines, newspapers, and radio broadcasts. Dr. Clance developed the Clance Impostor Phenomenon Scale, which is a reliable and valid gauge to measure how you compare to others. According to her, psychotherapy is not just science, but a form of art. 
Working with clients from different fields gave her the opportunity to study and understand more of the issues people go through. The Impostor Phenomenon is a widespread psychological encounter of intellectual and professional fraudulence. Millions of people suffer from it.
Impostorism seems to increase, and it is seen more and more among individuals. In this self-help book, Dr. Clance discusses the nature of imposter syndrome in three parts. She offers guidance, wisdom, and a practical approach on how to overcome the syndrome. A self-assessment test is also provided to figure out whether a person has impostor feelings or not. 
Dr. Clance also outlines the ABCs for success: Ability, Breaks, and Courage. The capability of a person defines success, along with courage. Exploring the abilities and going beyond the limits is a risk worth taking. She describes how people in various cultural roles all get cornered in periods of fear, self-doubt, and negativity.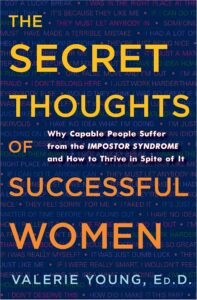 Dr. Valerie Young is a world-renowned speaker who is not just an author, but an expert in impostor syndrome. She is a great speaker and has spoken to hundreds of thousands of people and different organizations all over the world. She provides clients with a highly practical and effective approach in addressing and understanding the impostor syndrome. 
Dr. Young helps people overcome their self-doubt, a behavior that inhibits a person from realizing that they are just as intelligent and competent as others. She has done continuous research regarding women's self-limiting feelings and beliefs about themselves that affects their success. 
She believes that the impostor syndrome is not new, even the tiniest failure and mistakes become an agony, which results in blaming themselves for it. The thought patterns weaken their ability to feel and act the way they should be. 
The imposter syndrome makes people think that their achievements are accomplished because of luck and not because of their skill or talent. It is classified into five competence types. People have different coping mechanisms and personalities, the syndrome can manifest in different ways.
This great book provides a roadmap, insights, and practical ways for women who are struggling in managing and getting rid of their fraud fears. Dr. Young dedicates her time to studying and understanding what aspects of life make people feel fraudulent. In this imposter syndrome book, you will find transformative exercises that are easily comprehensible to help the readers master their inner critic.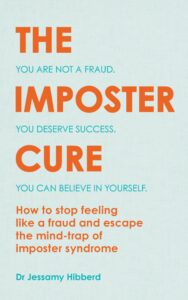 The author, Jessamy Hibberd is a young clinical psychologist who specializes in cognitive behavioral therapy. She aims to make psychology accessible to everyone. 
The impostor syndrome has made a huge psychological impact. It is brought about by doubt, insecurities, fear, and all sorts of negativity within us. It disables the true feeling of a rewarding accomplishment. 
Dr. Hibberd shares expert advice and strategies to help people vanquish and properly address the problem. Changing the way they think in order to gain trust among themselves so that they can see themselves the way others see them. She describes the five competence types: The perfectionist, the natural genius, the soloist, the expert, and the superwoman/man. Competence types how a person goes through failure and the way they manage it. 
According to Dr. Hibberd, there are two coping strategies called the Imposter twins, which are Overworking and Avoidance. These coping strategies show what causes the syndrome, how it manifests, and how it affects a person. She explores ways to properly address a person's belief and mindset to get a better view of themselves and gain more confidence.
This imposter syndrome book features diagrams and cycles that strengthen or weaken our feelings of competence. Analyzing the reason behind the foundation of impostor feelings, whether it is a personality trait or due to previous experiences. Therefore, people suffering from impostor syndrome do not take credit for their successes in the way normal people do. Their minds are not programmed the way they should be, thus making it difficult for them to see the real deal and just think it is out of luck. 
The author, Dr. Lisa Obre-Austin, is a licensed psychologist and a speaker who focuses on leadership and career advancement. She is the co-founder of Dynamic Transitions Psychological Consulting, and an executive coach who works with potential managers and executives. Helping and coaching people on how to combat imposter syndrome. She does regular consultations with different organizations and educational institutions.
This imposter syndrome book contains interactive exercises and activities that can help people overcome their self-doubt. Unleashing their real worth, and harvesting the fruit of their success. It is crucial to acknowledge the skills and achievements while taking the right approach in order to remove the negativity within. 
The goal of the author is to remove the lingering self-doubt so that people will learn to see and recognize their abilities behind their own shadows. The path people need to take in order to achieve the true meaning of success and happiness relies on their ability to trust themselves and expand their capabilities. 
This imposter syndrome book offers tools to help win the battle of imposter syndrome. It will help dig the roots of the syndrome, bloom your confidence, and let you harvest the happiness you deserve.
Image source: CNN