Microeconomics books allow us to understand the different dynamics of businesses. Microeconomics improves our decision-making. Whether you are an investor or a business owner, this is an essential component of economics that should not be overlooked. Here are the best microeconomic books:
This book is a revised edition written by H.L. Ahuja. The author explains and discusses the different concepts and theories of economics. Some of which include the theory of demand, cardinal marginal utility analysis, game theory, and imperfect competition, theory of distribution, methodology of microeconomics, the applications and the theory of production, cost, and monopoly to name a few. 
The book explains the importance of critical analysis and distinctions in the latest developments. It elaborates the intuition behind assumptions and shows examples of the right approach and application of theoretical models. The students can also learn a more complete development of Lagrangian and Kuhn-Tucker methods. The Theorem of the Maximum and two separation theorems are also included in this edition.
This book is intended for advanced undergraduates and students who are taking up their masters in economics, finance, and public policy. The author aims to educate the readers in being able to thoroughly understand advanced microeconomic theories.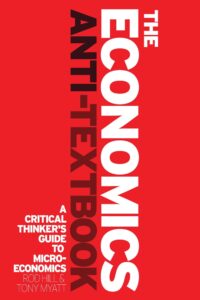 The authors, Professors Rod Hill and Tony Myatt wrote this celebrated book not to debunk mainstream economics but to change how it is presented in textbooks. They have mentioned that mainstream textbooks reflect a narrow range of world views. In this book, the authors talk about the essential guide in decoding traditional textbooks. They wanted the world to see that real economics is not as bland and boring as it should be. 
The Economics Anti-Textbook conveys the interesting side of economics, the one that many economists see. But has been sorted out in mainstream textbooks. It encourages readers to become critical thinkers in the free-market ideology. This is among the best microeconomics books, that also demonstrates the abundance of unempirical free-market ideology in economics education.
This is one of the most easily-comprehensible microeconomics books. Rakesh V. Vohra favors a student-friendly order of topics. Prices and Quantities reverse the conventional order of topics which starts with a simpler mathematical approach to more complex topics. 
It starts with monopoly, which requires single-variable calculus more than multivariable calculus, which then allows students to warm up. He believes that this approach enables students to gain more focus on the fundamental trade-off of margin and volume. 
In this microeconomics book, the students are exposed to substantial applications by moving from solid mathematical concepts and problems to more abstract ones. It covers more essential topics and applications that are suitable for a semester-long course.
The author also included substantive examples, which highlight real-life examples and help motivate critical thinking skills in interchanging between model and reality.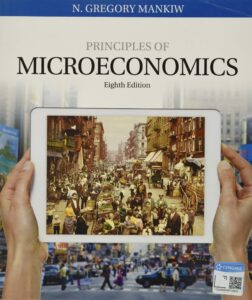 This widely popular textbook was written by N. Gregory Mankiw. A prolific writer and a professor of economics at Harvard University. He teaches macroeconomics, microeconomics, statistics, and principles of economics.
One of the author's missions is to be able to highlight the details in an engaging and easily digestible manner for the readers to find interest in studying the economy. He wants his readers to be able to understand the basics of economics and the importance of knowing its principles, so they can apply them in different situations in life. 
He emphasizes that studying economics provides tools that help in future endeavors and gives a better understanding of the potential limits of economic policy. This microeconomics book will help the readers learn to think like an economist, learn the economic language and be able to provide a new outlook on the world we live in.
This book contains a rigorous analysis of microeconomics. The influential authors, Andreu Mas-Colell, Michael Whinston, and Jerry Green, combined all the lectures from their years of teaching at Harvard University. This microeconomics book is produced containing a full range of essential topics, such as game theory, information economics, mechanism design, and general equilibrium. 
It is an efficient teaching tool for microeconomic theories. It provides students with clear and engaging discussions with exercises to help them sharpen their skills. A section is devoted to game theory alone, which is made easily accessible for the instructors to return to it all throughout the course. 
This book was written by the collaboration of two economics professors. Walter Nicholson and Christopher Snyder. Nicholson is a professor of economics with a degree in B.A. in mathematics and a PH.D. in economics. While Snyder is a professor of economics with a degree in B.A. in economics and mathematics and a Ph.D. in economics.
Their goal is to refine and modernize the treatment of microeconomics in the real world. Their approach focuses on providing students with mathematical tools, advanced problems, numerical examples, and expanded discussions of factual implementation. All of which are aimed to further improve their studies, and build intuition about economic models. 
The authors also wanted to showcase how microeconomic theory is used in the modern day. They shared knowledge in applying the latest economic models using theoretical tools, and new behavioral economics. 
Freakonomics was written by Steven D. Levitt and Stephen J. Dubner. Dubner is an award-winning author and a New York Times journalist who was asked to write about Steve Levitt, a heralded young economist. 
Among all the interviewed economists, Dubner found Levitt to be outstanding. He was amazed at Levitt's inventiveness as he approached economics in an unorthodox manner. They then decided to do a collaboration, hence the birth of one of the most captivating microeconomics books. What makes this book even more interesting is that it combines pop culture with economics. 
The chapters talk about a wide range of topics and modern real-life situations and their application. How incentives are the basic building blocks of economics, that either bad or good decisions are made based on incentives. How people get what they want and need and how we react to rewards and punishments. 
The control of information as applied to the K Klux Klan and real-estate agents. How we try to compensate for the various gaps of knowledge and its consequences. The socioeconomic patterns of naming children. The main takeaway of this book is to look at the world in a new way and interpret the world according to the tools of economics. Freakonomics has become among the best-selling microeconomics books.
The objective of the author is to provide topics for aspiring academic economists that will help in building their foundation and mastering the models. This microeconomics book tackles the basic tools of the economic model, reason, and the assessment of strengths and weaknesses of the tools. It also covers structural properties of preferences and utility functions, the basics of consumer and demand, dynamic choice, social choice and efficiency, general equilibrium, producer and consumer surplus, revealed preference and Afriat's Theorem, etc. 
To easily navigate this microeconomics book, the reader must be familiar with specific prerequisite mathematics and abstract algebra, covered in undergraduate courses. It goes beyond standard texts and was written to cater to students who have a deeper understanding of the field and have taken a first-year graduate course.
It features a free web-based student guide that provides solutions to some of the problems, as well as a limited-access instructor's manual that provides the rest of the solutions.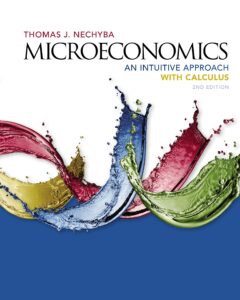 This microeconomics book uses a conversational style which makes it easier to understand for both the students and instructors. Explaining economic theories with our everyday choices, which also includes examples and graphs. It also includes concepts of mathematical analysis. 
It has outstanding clarity without requiring any background in Calculus. Additionally, it shows flexibility in the topics covered which also shows a non-game and game theory path through microeconomics. The author's main goal is to build the foundation and develop the conceptual thinking skills of its readers. 
It also provides an access code to an online interactive and animated graph which allows its users to view dimensional graphs and functions.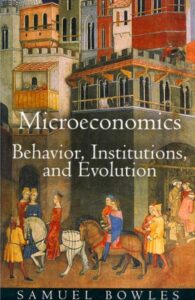 This microeconomics book talks about economic models that address real-life problems. Readers can explore modern advances in game theory, contract theory, behavioral experiments, and dynamic processes. The author develops a theory of how economics changes a person's behavior and how it affects the institutions. The chapters include institutional innovation, social capital, equilibrium unemployment, disequilibrium outcomes, path dependency, and non-market social interactions.
It is intended for readers who are interested in contemporary social science reasoning applied to problems in economic institutions. It ends with practice exercises for the readers to solve to further improve their mathematical modeling skills, which makes sure that the readers learn and know how to apply these theories in real-life situations. 
Written in an engaging manner, this microeconomics book compels both the young and old. To complement the book there is a computer simulation of complex systems that readers can experiment with. These simulations are available online and can help aid mathematical analysis. This is a must-read for those who want to learn both economics and accurate behavioral sciences of people in our society. Easily one of the best microeconomics books available today.
Image source: Textbook