Books about saving money allow us to get ideas, and guides on how to improve our savings. We know how important it is to save money, and invest that money. Sometimes it is not as easy to find ideas to save and ways of structuring your finances to improve your savings. These books about saving money will help you improve your savings, and completely change your attitude towards money. Here are the 10 best books about saving money: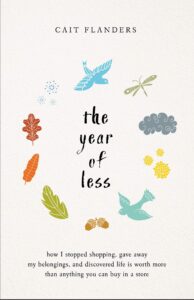 The Year of Less: How I Stopped Shopping, Gave Away My Belongings, and Discovered Life Is Worth More Than Anything You Can Buy in a Store
This incredibly eye-opening biography is about how Cait Flanders, the author of this book about saving money, defeated consumer debt. While improving her lifestyle and mental health, spent less, and lived a whole lot more. Join Flanders as she talks about how she changed her habits and gave life a new meaning!
At the start of the book, Flanders explains how she got caught by the consumerism cycle in her late twenties. She was addicted to alcohol, shopping, and food. Her desires turned into necessities and she wanted to earn more and spend more. She had almost paid back her $30,000 worth of debt, but still, "her needs" got in the way. Eventually, she realized that all the alcohol, shopping food, and debt weren't going to make her happy or help her be financially stable. And so, her great experiment began and it changed her life forever.
The experiment
In her experiment, her goals were to not shop and lessen her consumables for a whole year. She recorded her experiment for 12 months and turned it into this book about saving money. So that you can learn and be inspired with how she overcame her habits. In those 12 months, she bought only absolute necessities like food, toiletries, and gas. When she stopped shopping, she found out that most of her "necessities" were actually just wants and not needs. 
Other than shopping, she strived to consume less of other things, so she decluttered almost 70% of her apartment. 70%! Rather than throwing away broken things, she figured out how to fix them. When things are broken, we can't just throw them away. That's a waste of money. Flanders realized this and began to research the zero waste movement.
The less Flanders had, the more she realized why she had been shopping, eating, and drinking alcohol needlessly. Every time she went through a rough patch, it tempted her to go back to her old habits, but she stood firm and figured out other ways to cope with tough times. 
This is truly one of the most inspiring books about saving money! Flanders' experiment encourages us to change and live a more fulfilling life. She teaches us that to live a meaningful life, we need to know what really matters to us most. To Flanders, living less helped her fulfill more. She provides pieces of guidance throughout the book and surely, this will help you on your own path to living simply, but meaningfully!
The Financial Diet 
The Financial Diet is a good read especially catering to the younger generations who are just beginning their journey in everyday finance situations. It inspires millennials to make sensible and practical financial decisions and career choices, leading to financial freedom. Money is not just about saving up a lot of money in the bank, but also a matter of how much you spend within your limits in order to build a good foundation for the future. She also included basic knowledge about investing and handling credit.
The author speaks to her readers in such a friendly way. That it feels like a friend giving you a good amount of advice. The play of words is uncomplicated. Therefore, giving the readers easily comprehensible tips on how to minimize their spending and adjust to different lifestyle choices in order to manage and budget their finances. She also tackles the beauty of simplicity in life without breaking the bank. 
The quirky illustrations and humor make this book about saving money even more interesting. It's something youngsters would enjoy reading! Today there are many ingenious ways to get creative with saving methods. Recently, the no-spend month has become a very popular way of doing a financial detox. As it allows you to reduce your expenses to the bare minimum.
Your Playbook for Tough Times: Living Large On Small Change, For The Short Term Or The Long Haul
Donna Freedman is a single mother who has been in financially tough situations throughout her life. For years, she has perfected the ways of frugal living and minimizing costs to live the life you want while having your financial life together.
In this book, Freedman provides strategies on how to keep your costs minimal and spend just enough for you and your family. She teaches you that you can have a really tight budget, but still be able to shop for groceries. Not only does she give you advice on how to live frugally, but she also provides backup plans if ever you are in a bad financial situation. She calls this the "Financial Fire Drill". 
The financial fire drill is basically a purely genius budgeting solution. You can do it any time even when you aren't in a bad financial situation, so you can make big cost-effective changes to your living expenses. 
She explains that the first step is to write down a budget with the most minimum expenses you will need for living expenses. The second step is to act like you lost all your source of income. The final step is to subtract your super minimum budget from what you've earned (not your savings) and if you end up with a negative number, you may have to reconsider your expenses.
Her special mantra, "Save where you can so you can spend where you want," is something everyone should follow to live the life they want. With Freedman's noteworthy advice, you can get yourself through any financial disaster! Take it from someone who's been through several of those disasters before.
365 Ways to Live Cheap: Your Everyday Guide to Saving Money
The name says it all! It's incredible how this book teaches tactics on how to save and maximize money with the everyday things that we do and use. The routine we do with things includes doing our laundry, using our automobile, choosing the right appliances, dealing with family expenses, energy use, vacations, and groceries to name a few. 
The engaging write-up tells us to be aware of the little details that add up to our expenses that we usually don't pay attention to. The author basically shares tips on how to live cheap and smartly. He advises his readers to follow the ten-minute rule whenever shopping, as it gives an ample amount of time to think whether that purchase is really necessary or not. Most people really buy on impulse.
The readers can expect so much from this book which also encourages people to calculate what they really earn. Take note of their monthly expenses so that they can keep track and be aware of their spending limits. This is among the most life-changing books about saving money will surely save you a few bucks!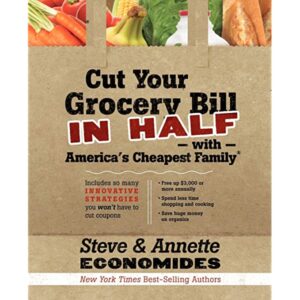 Cut Your Grocery Bill in Half with America's Cheapest Family
Steve and Annette Economides are the parents of America's cheapest family. They know all there is to budgeting and cutting costs. This couple is an expert in spending the least possible money. In this book, they explain how to cut your grocery bill in half with witty strategies and tricks. 
Most of you won't notice, but we tend to overspend on groceries. You'd think you spend most on clothes, jewelry, cars, or utility bills, but you actually spend the most on consumables. The Economides, who didn't have much money to support themselves at the start of their marriage, knew exactly how to counter that problem. 
In their book, they explain how you should have a list before you step into a grocery store because we tend to buy more when we aimlessly walk in and grab whatever's on the shelves. A list will keep both your budget and expenses under control.
Another method that they discuss in the book is planning your meals. Planning your meals will give you an idea of how much you need to spend on ingredients when you go to the grocery. Knowing how much you need to spend on ingredients will help you budget and know what to put on your list of things to buy. The authors also share a glimpse of how parenting should be in raising children who value hard work, work ethics, skills, and responsibility. Teaching kids about money at an early age helps them become self-sufficient and successful individuals in the future. 
If you want to know how to effectively cut down your costs and save a ton of money, then this is a highly recommended book for you! It is certainly one of the most insightful books about saving money.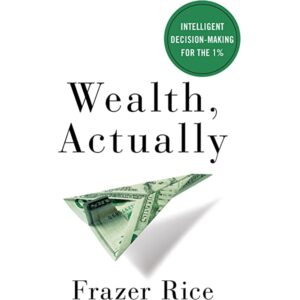 Wealth, Actually: Intelligent Decision-Making for the 1%
The author, Frazer Rice is a private wealth manager, also a regional director for Pendleton Square Trust Company. With 15 years of experience sharing financial management advice for the wealthy families out there. 
The book teaches everyone how to set financial goals and achieve them. Giving out practical advice on how you can maximize your wealth and avoid making bad decisions. 
It also includes a list of costs to consider, tackled how to handle threats, protect investments, deal with lawsuits, real estate funds, and more. The explains everything in simplified terms to make them more comprehensible for the readers.  
But First, Save 10
The author's mission is to educate women to save money for their future while traveling the road towards financial freedom. She teaches a system that helps women prepare for their future. By saving 10% for retirement and having a healthy relationship with money. 
She believes that our lives are focused on living paycheck to paycheck. Thus, we are unconsciously robbed of securing our finances for our future. 
In this book, she elaborates on the importance of self-care. Self-care is when we put ourselves first, by that she means that we should be setting aside a shiny shimmering 10% for our retirement when we are old, gray but happy.
The author, who is also a popular blogger, sank into so much debt. She had a really bad habit of overspending and had absolutely no control over her impulsive behavior. One day, she decided to come up with a plan to do a spending fast and shared her experience on her blog. Her post gained popularity and she was interviewed by many well-known publishing companies. 
In order for her method to work, she had to stay focused on spending only on the "needs" and cross out all the things on her "wants" list. She also advises people to be aware of where their money goes. To be creative in searching for side jobs that would generate additional funds. Because of her determination, she was able to set her priorities straight and got out of debt in no time! 
We can all learn a thing or two from both her blog and her book about saving money. This just shows that no matter how hard it is to get out of debt, it's still never impossible to do. We just have to stay determined and never give up!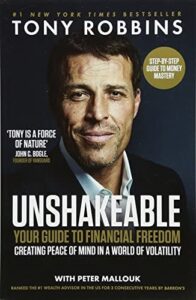 Unshakeable: Your Financial Freedom Playbook
Tony Robbins is a world-renowned business strategist and wrote the #1 New York Times bestseller, "Money: Master the Game". He is a stock market mastermind and knows it inside-out. Even Oprah herself agreed, "Tony's power is superhuman."
He wrote this book as a step-by-step guide to financial freedom. He writes about strategies to protect your financial status when the market crashes. The four principles that make people rich, ways to profit even when the market is down, how to live a fulfilling life, and have peace of mind. 
Robbins teaches us that you don't need to have a high-paying job or a ton of savings to reach your financial goals. You can reach them faster than you ever thought you could by working smart instead of working hard. In this book, he explains how to manipulate the market and become a seasoned investor. 
Throughout the book, Robbins offers financial advice that will help you on your journey to becoming an expert investor. With Robbins' strategies and spectacular pieces of wit, you can rise higher in the world of finance and investments!
Kristin Wong is an award-winning author who writes about personal finance, career, and human behavior. In this book, she inspires readers to enjoy the life they have always wanted, not just what they can afford. 
She created a road map on how to attain personal goals and not to let money dictate the rules in the lives of the readers. The book teaches the fundamental aspects. It also shows the direction in setting financial goals such as staying out of debt. By sticking to your budget while having the right mindset. 
The author also spoke about how emotions play a part in our decisions and how it affects our financial decisions. The book is not just packed with valuable information, but fun to read as well. Making it one of the best books about saving money. It's interesting and makes serious finance topics less intimidating.
Image source: Investy