Are you a stock trader or investor? If so, you need various supporting tools to help you invest or trade. One of those tools that will support your activities in investing in stocks is stock widgets. But what are the best stock widgets in 2022? Let's find out!
What is a stock widget?
A stock widget is an application that usually has various functions, such as monitoring stocks and seeing price movements to view financial news that can impact your investment.
But what if you don't want to waste time and access all of the above quickly? Yes, the stock widget is the answer. Stock widgets can bring the abovementioned features directly to your screen, so you no longer need to open the app if you want to monitor stocks or financial news. 
With stock widgets, everything is instantly available when you open your screen for the first time.
So what are the best stock widgets for android users?
1. Investing.com
Investing.com is one of the most popular platforms among traders. Even if you combine the downloads on Android and Apple, the total downloads already reach millions. What exactly is this financial platform used for?
By using investing.com, you will be able to monitor price movements of various existing financial instruments, not only stocks but also forex, commodities, and even cryptocurrencies. Not only that, by downloading this financial application, you can create your portfolio.
Afraid of missing out on opportunities? Take it easy; Investing provides a widget feature that you can set on the front page of your mobile screen. You can also add an alert if there are more important events or price movements than the stocks you monitor. 
It allows you to build your portfolio and monitor it in real-time whenever you look at your phone while reading several news and updates on the markets.
2. MSN Money
Using this app, you can add one widget to track only one stock. However, what makes this widget good is that if you press the widget, additional information will immediately appear, such as news, stock prices, and so on related to the stocks you are monitoring.
3. TradingView
This is a very mandatory application for you to have, especially if you are a trader in the stock market. This platform provides features for us to monitor prices in real-time.
With an elegant and comfortable interface for beginners, you can easily monitor stock price charts. This application also provides a widget devoted to monitoring stock prices. The widget will continually be updated every minute, so the price remains the same as in the market.
Here you can create your stock watchlist and monitor price movements; besides stocks, you can also monitor the price movements of other financial instruments such as crypto or commodities.
4. Yahoo Finance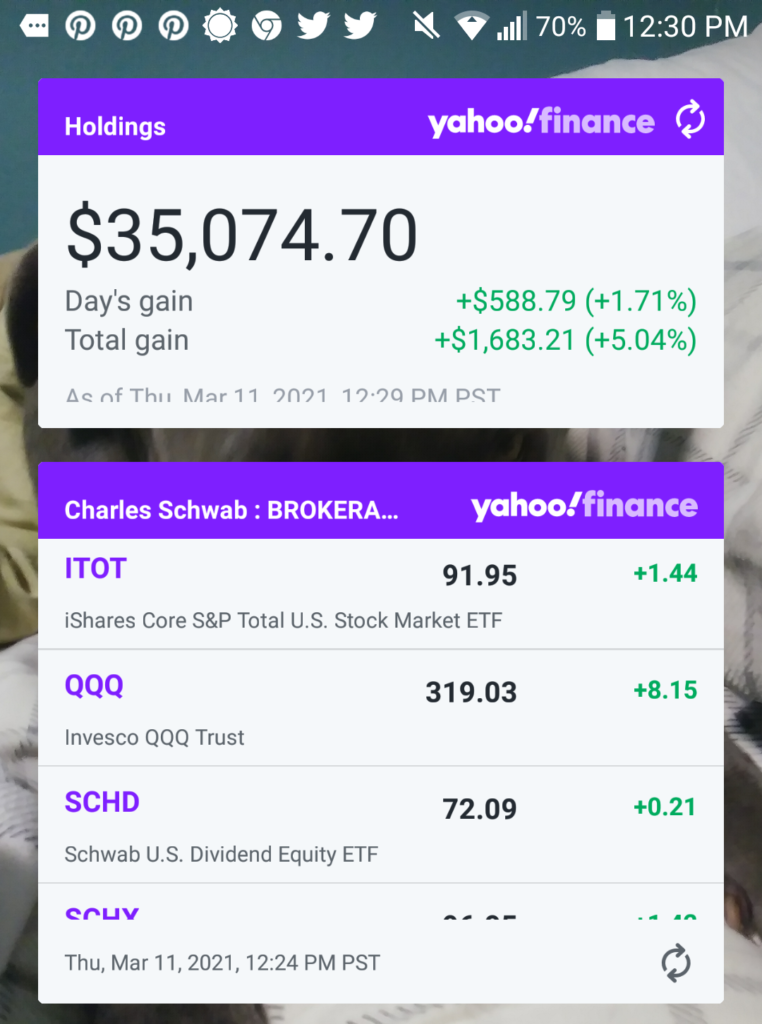 "Your #1 finance destination to track the markets and the economy" is what their slogan is. Like Investing.com, Yahoo Finance has various features such as monitoring stock prices, creating personal portfolios to monitoring news or important events than the stocks we monitor.
Not only stocks, but you can also monitor crypto or other financial instruments through Yahoo Finance.
5. Bloomberg
If the previous platform was a platform that focused on features to monitor stock prices, then Bloomberg is different. Bloomberg is a financial news platform famous worldwide; you will get world financial news, business, stock market, and investment every time. 
Journalists who are ready to help you understand the latest economic conditions today. You only need to subscribe monthly by paying only US $ 1.99 to enjoy all the content available. 
If you are an investor who uses top-down or bottom-up analysis, then this platform's widgets will be beneficial.
6. Financial Times
Like Bloomberg, the Financial Times also provides the latest articles about finance and the business world. You will also get articles about personal finance that will help your financial condition. You can use their widgets to monitor events or hot news that is happening.
7. Medium.com
You may wonder, isn't this a blog platform for reading articles? Yes, that's right, but the difference from the medium is that you can set what type of news you want to see daily. And again, what makes the difference is that Medium is a place where many stock analysts gather to give their personal views on economic conditions and the business sector. You will find information about the stocks you are monitoring here.
This medium is almost similar to Twitter. The whole community joins to collect the latest information so you will not miss any information that you may need for consideration in your analysis.
8. Webull
Like Investing.com and Yahoo Finance, Webull offers multi-features such as a customizable portfolio, updated news, and other financial tools that will help you analyze stocks.
 In addition, Webull also provides widgets you can set to your heart's content, and the appearance is straightforward so that beginners will immediately feel comfortable using it.
What is the best Stocks app?
You may be wondering which of all the widgets above is the best one to use? The best stock apps you must have are Tradingview, Investing, Bloomberg, and Medium. These four applications are the best for you to use because with the combination of the four applications, you can already get various things, ranging from stock charts, news, expert opinions, and the latest analysis.