Alibaba is the world's largest platform for e-commerce and it dominates the Chinese market. It is also one of the most valuable companies in the world. But Alibaba is not alone in this space - it has several competitors both in China and abroad. In this article, we will take a look at some of Alibaba's biggest competitors and examine what sets them apart. 
Does Alibaba have competition? 
Yes, Alibaba does have competition - both in China and in other regions. However, its competitive advantages have allowed it to maintain a dominant position in the Chinese e-commerce market. 
What companies are similar to Alibaba? 
Many companies are similar to Alibaba in terms of business model and size. These include Amazon, eBay, and JD.com. 
Who is Alibaba's biggest competitor? 
Alibaba's biggest competitor is JD.com, China's largest online direct sales company. JD.com has a market cap of ~$100B and is one of the most popular e-commerce platforms in China. 
Alibaba and JD.com have been locked in a fierce battle for supremacy in the Chinese e-commerce market for years now, with each company trying to outdo the other in terms of innovation and customer experience. 
What sets JD.com apart from Alibaba is its focus on quality control and logistics. JD has its own fleet of delivery vehicles and warehouses, which allows it to offer same-day or next-day delivery to customers in major cities across China. 
This is a significant advantage over Alibaba, which relies on third-party logistics providers for delivery. JD.com is also working to expand its international reach. In 2018, it announced a partnership with Walmart to create an online grocery store in China. 
This move will help JD.com tap into Walmart's vast customer base and further solidify its position as a leading e-commerce player in China. Alibaba's biggest competitor in China is JD.com. Make sure to keep reading as we explore how it compares in other markets such as India, Europe, and the USA.
Alibaba competitive advantage 
Alibaba has several competitive advantages that have helped it become the dominant force in Chinese e-commerce. First, Alibaba has a huge customer base. It is estimated that there are over 500 million active users on Alibaba's platforms, which is more than double the number of active users on Amazon's US platform. 
This gives Alibaba a significant edge over its competitors in terms of reach and market share. 
Second, Alibaba has a strong brand presence in China. It is the most recognized e-commerce brand in the country, which gives it an advantage when competing for market share against regional players like JD.com. 
Third, Alibaba has a large pool of merchants and manufacturers that sell on its platforms. This gives buyers a wide selection of products to choose from and helps keep prices competitive. Fourth, Alibaba has invested heavily in technology and innovation over the years. This has allowed it to stay ahead of the curve and maintain its lead in the Chinese e-commerce market. 
Which company is bigger, Amazon or Alibaba? 
Amazon is bigger than Alibaba. Amazon is currently the world's largest online and mobile commerce company, with a market cap of $1.41T. Alibaba is the second largest e-commerce company in the world, with a market cap of $262B. 
We can also see this when considering total revenue, Amazon is considerably larger than Alibaba. In 2021, Alibaba's total revenue was over $113 billion, while Amazon's was slightly under $470 billion.
Differences and synergies between these two companies 
These two e-commerce giants can often be seen as competitors. However, they focus on different strategies. Alibaba connects entrepreneurs looking for bulk orders from reliable suppliers. 
Often, the items have a MOQ (minimum order quantity) that is much more than a single consumer would need. Amazon is a convenient place for consumers to buy something online and receive it quickly. 
This company also does much more than product sales such as their web hosting business and artificial intelligence research. 
Differences between Alibaba and Amazon
Alibaba is known for B2B (business to business) sales while Amazon specializes in B2C (business to consumer) sales. They both leverage the power of the internet to connect and make sales but the difference is the intention and needs of the individual buyers. 
Synergies
Savvy entrepreneurs will sometimes use both platforms. For example, they might order a bulk purchase from Alibaba and have it stored in an Amazon warehouse. They will then be responsible for selling that inventory while Amazon fulfills and delivers the items that are sold. In this scenario, all participants including Alibaba, Amazon, the entrepreneur, the manufacturer, and the customers all benefit. Both Alibaba and Amazon are aware of this practice. As you can see, they do not necessarily compete against each other. instead, they work together, even if it's not directly. 
What is AliExpress vs Alibaba? 
AliExpress is a subsidiary of Alibaba that specializes in selling products to small and medium-sized businesses. It is a platform where merchants can sell directly to consumers, which gives buyers access to low-priced products from around the world. 
Aliexpress has gained a poorer reputation in terms of the quality of the product than Amazon because it is a more open platform with less quality control. However, it offers products at much lower prices than Alibaba and Amazon, making it a popular choice for small businesses and individual buyers. 
Often items bought from Aliexpress are also shipped directly from China, which can take a long time to get to western countries. Compared to Amazon products which can be delivered within the same day, making it the best for speed and convenience. 
How does Alibaba compete in other markets? 
China is responsible for 28% of global manufacturing (2018). With that number in mind, it's no surprise that the Chinese company (Alibaba) can dominate the market with closer connections to the suppliers. 
Although more than a quarter of manufacturing is centralized in China, that still leaves room for 72% of items to be made elsewhere. Let's see if there are any competitors to Alibaba within specific markets and regions outside of China. 
Alibaba competitors in India
In India, Alibaba's main competitor is Flipkart. Flipkart was founded in 2007 by two former Amazon employees. Currently, it is the leading e-commerce platform in India and has a market share of 43%. 
Alibaba entered the Indian market in 2014 with the acquisition of a minority stake in Paytm, an online payments company. In 2015, Alibaba launched its own e-commerce platform called 11 Main. But closed it just one year later due to a lack of adoption. 
In 2018, Alibaba once again tried to enter the Indian e-commerce market by investing in Snapdeal, another local player.. 
Alibaba competitors in the USA 
In the United States, Alibaba's main competitors are Amazon and eBay. Amazon is the market leader in the US with a 50% share of the e-commerce market. eBay comes in second with a 21% share. Alibaba is far behind with a mere 0.47% of the US e-commerce market. 
One reason for Alibaba's struggles in the US is that it has been difficult to find local partners who understand how to do business in China. In 2014, Alibaba tried to partner with Yahoo but the deal fell through due to disagreements on how to run the joint venture. 
Alibaba was hoping that 11 main would help establish them in the U.S markets as well. Unfortunately, the platform failed to gain traction and was closed down in 2016. Another U.S competitor is Xometry. 
This company is an online marketplace that connects businesses with custom manufacturers. Xometry has a network of over 15,000 manufacturing partners and offers services such as CNC machining, injection molding, and sheet metal fabrication. 
Currently, Alibaba is focused on growing its business-to-business platform called AliExpress. However, it remains to be seen if the company will be able to compete with Amazon and eBay in the US e-commerce market. 
Alibaba competitors in Europe 
In Europe, Alibaba's main competitor is Amazon. Amazon has a significant lead over Alibaba in Europe with a market share of 73%, compared to Alibaba's 14%. 
Alibaba has also been investing in other European companies such as Metro AG. However, the company has yet to make a significant impact in Europe. It remains to be seen if Alibaba will be able to compete with Amazon in the European e-commerce market. 
Other international opportunities for Alibaba 
In 2015 Alibaba acquired Daraz, a Pakistani e-commerce company. Daraz was later rebranded as Alibaba's own platform and is now operational in eight countries in Southeast Asia. 
It's clear that Alibaba is expanding its reach beyond China and trying to compete with Amazon in other international markets. However, it remains to be seen if the company will be successful outside of its home country. 
Alibaba's biggest competitor in China: JD.com
As you can see Alibaba has had its fair share of successes and failures when it comes to expanding globally. They might begin to refocus on their best market, which is China. This article outlined how JD is the largest competitor to Alibaba so it's no surprise that they are also one of the biggest competitors in China specifically. 
JD.com is the second largest e-commerce company in China with a market share of 27%. Alibaba has a market share of 58%. JD.com was founded in 1998 by Liu Qiangdong (also known as Richard Liu). The company started as an online computer store but has since expanded into other areas such as electronics, home appliances, and food. 
Alibaba was founded by Jack Ma around the same time in 1999. They both took advantage of the internet age and kept working on their businesses since. Alibaba and JD.com have been competing neck-to-neck for the Chinese e-commerce market. 
In 2017, JD.com overtook Alibaba to become the number one retailer in China. However, Alibaba regained its lead in 2018 with a market share of 58%. The growth of capitalism within China has helped these two companies build incredible reputations as business icons. It will be interesting to see how the two companies continue to compete in the Chinese e-commerce market.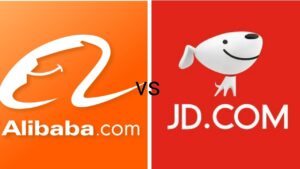 Alibaba vs JD.com 
Alibaba is the world's largest global online and mobile commerce company 

JD.com has a focus on quality control and logistics, which gives it an advantage over Alibaba 

JD.com is expanding its international reach, and in 2018 it announced a

partnership with Walmart

to create an online grocery store in China. 
It's important to note that the two companies have very different business models. Alibaba is a platform company, while JD.com is a direct retailer. 
This means that Alibaba makes money by connecting buyers and sellers, while JD.com makes money by selling products directly to consumers. 
Alibaba vs JD.com: who will come out on top? 
It is difficult to say who will come out on top in the battle between Alibaba and JD.com. Both companies are leaders in the e-commerce space, and each has its own unique advantages. 
However, one thing is certain - the competition between these two giants will continue to heat up in the years to come.