Non-material wealth is wealth without a physical substance or a materialistic form. Non-material wealth is not described in terms of money. It is defined in terms of intangible and in-kind substance.
This type of wealth is a subjective term that relates to happiness, satisfaction, contentment, and a lifestyle rather than luxury or money.
What is a Non-Material Thing?
A non-material thing is something without a material form. A non-material thing is something without a tangible form, physical substance, and non-material.
What is an Example of Non-Material Wealth?
Since the definition of non-material wealth is often contrasted against material wealth, it can take a varying form for anyone.
Examples of non-material wealth can include:
Knowledge

Happiness

Ideas

Philosophy

Culture

Ethics

Aesthetics
The list can go on depending on the goals of the person defining non-material wealth.
What are Non-Material Resources?
Non-material resources do not have physical shapes or substances. These are intangible resources that cannot be touched or seen but are as valuable as material resources.
Non-material resources include:
Education

Religion

Culture

Time

Relationships

Intellectualism
Types of Non-Material Wealth
Once you define non-material wealth your way, you can find several types of non-material wealth around.
You can find wealth in literature, music, relationships, time, and culture. All you need to do is explore the right places.
Here are our top-picked 10 types of non-material wealth, hopefully, you'll find one for you:
Knowledge/Education

Happiness

Contentment

Time

Donations

Friends

Entertainment

Relaxing
Knowledge
Be it formal or non-formal education, knowledge is wealth. Develop and harness your knowledge at every stage of your life. It can be a technical skill or learning about history.
There is no bigger non-material wealth than knowledge!
There is no better way of increasing your knowledge than reading a good book. Find your favorite book and go through it.
Is Education Material or Non-Material Wealth?
Education is a type of wealth that is non-material. We cannot touch or see it but we can feel a sense of achievement as we progress through our education.
Also, education is one of those types of wealth resources that link material and non-material wealth.
Finding Happiness
What makes you happy?
It can be spending time with your loved ones or buying your favorite car. There is no harm in chasing your material dreams. Just create a balance between your material and non-material desires.
Finding Contentment
There is the big deal with non-material wealth. You'll always be content with what you have.
Unlike your materialistic and monetary dreams, finding contentment is easier when seeking non-material wealth.
Spending Time with Yourself
It's never a bad idea to think of yourself in this tiring and ruthless age of the ultra-fast world. Looking after yourself.
Doing a bit for yourself is easier than you think:
Get more sunlight

Take a sound sleep

Get a bubble bath

Call your best friend

Smile for a while

Have a relaxed day without any activity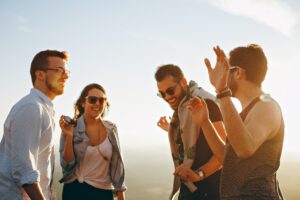 Time Spent with Family
Time spent with your loved ones is the best time. However, you'll have to make it count even if you are having a hard time with your family.
Time Spent with Nature
Staying close to nature would help you relieve stress and fatigue. You'll find energy and happiness by spending time with nature.
Give it a go whether you walk through a park, go hiking, or visit a nearby lake.
Donations and Social Welfare Deeds
Don't think big when it comes to charity and social welfare. You'll be a philanthropist if you donate your used items or help with a good deed. Imagine donating your old laptop to a needy student when you upgrade the gadget!
We all feel wanting sometimes in our lives. One of the finest non-material things you could do is to bring a smile to someone's face.
Meet Old and New Friends
The older we get the stronger our friendships become. Spending time with your old friends is the best time spent ever. And if you can make a few new ones, you're the wealthiest person in the world.
Get Entertained
We all love getting entertained but alas we never find enough time these days. Sometimes you need to get your routine a break.
Watch your favorite movie, a tv show, or listen to your favorite music.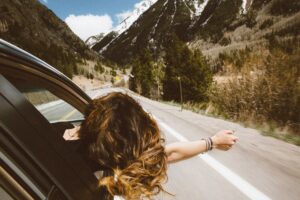 Get a Relaxing Session
Take a deep breath, smile, and relax. That's it, you had to do it for a long time. It's important to get a relaxing session now and then. 
Be it a little nap or taking a hot bath. Get yourself a yoga session or start meditation. Just find some relaxation.
Images source: Unsplash