The global population is increasing rapidly and so are the mouths to feed. The Food and Agriculture Organization (FAO) has already predicted that it is necessary to increase agriculture production by 70% to feed the foretold almost 9 billion people in 2050.
As agricultural lands will not expand, vertical farming is seen as the agriculture for the future. The growing need for higher production levels and the ability to use resources more efficiently are the two main reasons why vertical farming stocks are one of the largest trends to watch.
The traditional agriculture industry will soon be disrupted by these high-tech solutions.
Vertical farming is a lucrative sector that brings together agriculture and high-tech technology that is able to control plant growth and production. Moreover, the vertical farming market is forecasted to grow with a compound annual growth rate of 25.2% by 2027.
Are you interested in the vertical farming industry?
Continue reading to get more insight about vertical farming and some well-growing vertical farming companies on the market.
What is vertical farming?
Vertical farming is the modern agricultural practice of farming in vertically stacked layers. It involves growing crops in a controlled environment.
Vertical farming is generally done indoors with soilless farming techniques like aeroponics, hydroponics, and aquaponics.
Moreover, it uses high-capacity LED lights and fertigation techniques along with very little human intervention. 
Automation of seeding, transplanting, and harvesting are the must-haves for reducing operational costs and increasing the revenue of vertical farming.
Furthermore, with automation, you can grow any crop at any time and any place in the world with this modern farming system.
Did you know? The concept of vertical farming was proposed by a professor of Columbia University, Dickson Despommier in 1999.
Vertical farming vs conventional farming
Although the vertical farming practice is new to the world, it is being adopted with great enthusiasm. After the first commercial vertical farm was initiated in 2012 in Singapore by Sky Greens Farms, numerous others have joined the market.
So, what is this fuss about vertical farming stocks? How is it different from the old-school method of farming? Here are the main vertical farming advantages, and why vertical farming is grabbing investor's attention:
Occupies less land

Uses less water

Uses fewer fertilizers and pesticides

Reduces transportation costs

Reduces food waste

Lower agriculture pollution

Higher quality produce

Larger quantities of produce

Increased automation and control

Increased use of AI technology
Occupies less land and uses less water 
Conventional agriculture uses 50% of the Earth's inhabitable land and represents 70% of total freshwater consumption.  
When the horizontal expansion of land is needed to increase the production in land-based farming, the land used by vertical farming is obviously way less as it extends vertically.
Moreover, the hydroponics system circulates the same water, again and again, reducing the water required by 90-95% in comparison with conventional agriculture. 
Hence, vertical farming is more efficient than traditional agriculture. The use of land and water becomes much more efficient.
Uses less fertilizer and pesticides
As vertical farming is done indoors in a regulated environment, disease and insect infestation are rare. This automatically cuts off the heavy amount of pesticides required to maintain healthy crops.
Additionally, fertilizer is utilized to its highest potential as problems like leaching or wash-off don't exist in vertical farming in contrast to soil-based agriculture. 
Reduces transportation costs and food waste
With less land requirement, vertical farming plants can be easily established near the city areas. This reduces the need for transportation of produce from distant farms to the city.
Hence, the cost of transporting can be cut down considerably.
Moreover, a huge amount of food is wasted on the road due to bad packaging and long-distance from the market, which can be reduced with vertical farming.
Reduces agricultural pollution
Chemicals like fertilizers and pesticides used in agriculture remain on the soil as a residue for a long time contaminating both the soil and water. Also, gasses like methane are produced from agricultural land which is a major culprit in climate change. 
Increased quality and quantity of produce
Along with decreased insect and pest infection and higher response to the applied feed and hormones, the quality and quantity of the food produced are sure to be higher than that of conventional farming.
Vertical farming stands out as a more efficient agriculture method that not only allows us to save on water, and land, but also increases the quality and quantity of our crops.
Increased automation and control 
Although traditional agriculture already uses some automation processes, vertical farming allows for increased automation. Since the indoor vertical farming spaces are smaller, several farming procedures can easily be automated, such as:
Planting seeds

Transfering crops 

Harvesting

Watering and lighting

Fertilizing and use of pesticides
Controlling crops with AI and tech systems
On top of the increased automation that vertical farming allows, using AI systems to monitor crops, and adjust the farming to each crop will be of the most impactful disruptions in the agriculture industry.
Vertical indoor farming allows for extensive use of AI technology and digital systems, that will make it easy to produce the best cops at the lowest price. By controlling each step of the process, from the moment you lay the seeds on the soil, to harvesting.
What are the best vertical farming stocks?
You might be wondering by now, what are the best vertical farming stocks to invest in? 
Here are the 4 best vertical farming stocks to watch:
| Vertical Farming Stock  | Ticker | Market Cap (Millon) |
| --- | --- | --- |
| Hydrofarm Holdings | NASDAQ: HYFM | $913 |
| Appharvest  | NASDAQ: APPH | $379 |
| Kalera | OTCMKTS: KSLLF | $214 |
| Village Farms International | NASDAQ: VFF | $555 |
Hydrofarm Holdings
Hydrofarm produces and distributes the equipment and supplies for controlled environment indoor farming. The products include growing lights, growing media, and climate control solutions. 
Therefore, the growth of Hydrofarm is directly related to the rise of vertical farming.
This company is more than four decades old, mainly focusing on wholesale markets of the USA and Canada.
As its products can also be used in Marijuana cultivation, Hydrofam is connected with cannabis legalization. Hence, it has the potential for good growth in the future. Hydrofarm made $456M in revenue over the last 12-months.
Appharvest
Appharvest is one of the well-known vertical farming companies in the US which develops and operates large high-tech vertical farms. It has the largest high-tech greenhouse globally on 60 acres of land. Moreover, it is expanding with 12 new projects in the pipeline to be completed by 2025.
GMO and pesticide-free produce are the main features of Appharvest. It also has secured partnerships with leading markets like Costco, Target, Kroger, and Walmart.
Appharvest went public via a SPAC merger in early 2021. Moreover, after its extension in 2025, it expects to have $300M to $350M in sales.
Kalera
Kalera is a Norway-based vertical farming company that has extended to the US since 2020 through its farming facility in Orlando. It further plans to extend its facilities in the US for growing a full spectrum of leafy greens. It has several market partners like Sysco, US Foods, Freshpoint, Marriott, etc.
In 2021 Kalera's revenue reached 7.2M, and it is expected to reach 12M in 2022 after its new facilities are in operation. It has also acquired Vindara to optimize seed breeding in 2021. With its big expansion plans, Kalera is one of the best vertical farming stocks to watch.
Village Farms International
Village Farms International is another company that develops and operates large greenhouses. It is based in Canada and owns a low-cost cannabis producer, Pure Sunfarms.
It extends to 500 acres producing tomatoes, cucumbers, and peppers using hydroponics.
In 2020 Village Farms reported $170M in revenue, which increased to $195M within the first nine months of 2021.
With its involvement in the cannabis industry, Village Farms is set to continue its growth over the coming years.
Is vertical farming a good investment?
Vertical farming will be one of the best investments over this century. The need to feed billions of people coupled with the increasing problems of conventional agriculture will continue to be important tailwinds for the growth of the vertical farming industry. 
When we also consider the positive impact the industry has in preserving ecosystems, while guaranteeing food for billions of people worldwide, it is one of the most interesting sectors to watch.
Is there a vertical farming ETF?
Currently, there is no vertical farming ETF available to investors. However, over the coming years, it is likely that ETFs in this space start to emerge. Grabbing investors' attention, and capturing investment specifically directed at vertical farming.
Who is the leader in vertical farming?
Currently, AeroFarms, a privately held company is one of the leaders in sustainable indoor vertical agriculture. The company founded in 2004 has continued to develop its vertical farming facilities until now. It is considered the leader in the industry.
AeroFarms grows more than 550 varieties of fruits and vegetables and sells with Amazon and the retail market of Northeast US.
AeroFarms expects $13 million in revenue in 2022, which will increase to $553 million by 2026.
However, as with any industry in its infancy, it is difficult to say exactly which company will emerge as the market leader. As we have seen with several other industries, the first-mover is not always the market leader in the end.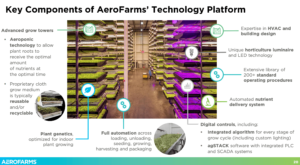 Source: Investor Presentation
Is AeroFarms a publicly-traded company?
AeroFarms is not a publicly-traded company. Spring Valley Acquisition was going to take Aerofarms public through a SPAC (special purpose acquisition company). However, due to the lack of funding, Spring Valley Acquisition had to cancel the deal. 
It is possible that AeroFarms will try to go public again. However, due to the lack of investor interest in the company, it might take some years before we actually see an AeroFarms stock IPO.
Who are the largest vertical farming companies?
Here is a list of the largest vertical farming companies:
Hydrofarm Holdings

Appharvest 

Kalera

Village Farms International

AeroFarms

Plenty

Green Spirit Farms

Bowery Farming

BrightFarms

Gotham Greens

Iron Ox

InFarm

AgriCool

CropOne

Illumitex

PodPonics

Surna

Freight Farms

Voeks Inc

SananBio

HelioSpectra

Agrilution

Altius Farms

Badia Farms

Intelligent Growth Solutions

FarmOne

Sky Greens

Spread

Sasaki

Urban Crop Solutions
Should I invest in vertical farming?
At this point, it is difficult to say which company will be the market leader, and what their competitive advantages will be. Investors in this industry should focus on selecting some of the higher quality vertical farming stocks, that have a proven business model and are growing revenues.
Conclusion
It is clear that vertical farming stocks will slowly become one of the largest agriculture investment trends over the coming years. Although the industry is in its infancy, there are companies that are investing heavily in this space.
Investors should monitor these stocks, as they will most likely experience rapid growth, and slowly become large agriculture companies.