Anger management books allow us to understand the source of our emotional unbalance that causes anger. Controlling our emotions is essential when you are investing or trading, and particularly when it comes to anger management. Emotions should not be the main driver of the investment or trading decisions you make. Therefore, it is important to always be in control of your emotions, especially anger. Anger management books can be a resourceful tool to help you manage your emotions.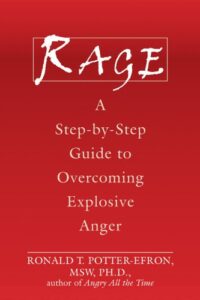 At some point in our lives, we all succumb to anger. We all face certain situations that lead to anger and become irrational with our actions. It matters how well we are at handling it. Some people use rage to release their anger. It gives them a sense of fulfillment when they use rage to deal with their emotions and it does not do anything well. Rage is something that takes an amount of effort to control, and that is the reason why the author wrote this book.
The author, Ronald T. Potter-Efron is a psychotherapist in private practice who specializes in mental health, anger management, counseling, and addiction treatment. He explains how rage is triggered by a lot of things, such as fear of losing someone or something, a sense of danger or threat, helplessness, and shame when someone feels disrespected.
He firmly believes that having a practical approach and good counsel can help manage rage. This book offers anger management tools that are easy to follow. Soon enough you will be on the road to happiness and it all relies on how well you manage your anger. It is never too late to start.
The authors, Leonard Scheff and Susan Edmiston want to change the perspective of the readers and use simple Buddhist principles that are easy to follow. They are offering this interactive book to help people discover how happiness can replace anger.
This anger management book explains how anger is recognized and based on unmet demands, from reasonable to impossible ones. Sometimes, people become irrational. Anger turns us into monsters. The authors point out how we can vanish anger by being aware of the sources.
We need to understand and eliminate what triggers them. We must learn to transform anger into compassion. The people around will be amazed by our transformation, and they will be inspired to do the same. Overcoming anger is not a walk in the park, but it sure is a path worth taking.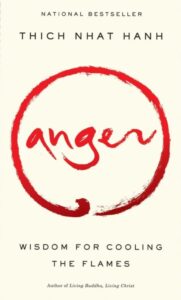 Anger is a detrimental emotion that is difficult to handle. The author, Thich Nhat Hanh is a Buddhist monk and Vietnam refugee. He shares and explains Buddhist insights and teachings as a way to manage the anger that will bring peace and happiness. He talks about how anger lingers within us. We need to take the necessary steps in dealing with and changing the way people think and making it a priority in our daily lives.
Anger is like a boomerang, it hits us right back. Oftentimes, we let our emotions overflow without thinking, and we end up suffering the consequences of our actions. Therefore, self-awareness and intervention are among a few things we need to exert effort on.
We must provide light to others and make them see the true meaning of compassion. The author suggested reaching out to the person we are angry with. Letting go is the way to gain peace. Wisdom, compassion, spiritual development, and awareness keep us protected from exploding anger. This is certainly among the best anger management books available today.
Written by Dr. Stephen Dansiger, a licensed therapist with 25 years of expertise, is based on his research and evidence. He shares therapeutic methods and spiritual practices in understanding and managing what triggers anger. He talks about the associated emotions, thoughts, and body sensations that come with it. Mindfulness is something everybody must put into practice. Letting our emotions dictate how we act is something that needs to be controlled.
By nature, we all react to different situations, and oftentimes we only realize our actions when it is already done. Anger not only affects the people around us but all aspects of our life including our own well-being. This book offers a practical approach and exercises to assist us in controlling our emotions better. It includes a self-assessment tool that helps determine the level of anger and how to navigate your emotions when anger strikes.
The Anger Trap was written by Dr. Les Carter to help readers distinguish the difference between healthy and unhealthy anger. In order to see a better view by taking the spiritual path. This anger management book discusses the root cause of anger, and how you can determine it to break the cycle. He discusses that minor manifestations that lead to anger must be recognized. Even the smallest things can be an attribute to anger and rage. All the negative emotions and experiences from the past can result in an anger build-up.
The damaging effects of what anger brings can be avoided by being mindful and doing the right approach. Applying practical techniques and strategies will free you from anger, and everything else that results from it. The author's insights come from years of experience and abundant cutting-edge research. He includes real-life examples and shares concepts and step-by-step approaches.
Men often react to anger with aggression, hate, or hurtful speech. You lose all sense of self-control and are unable to hold yourself back from anger. Fortunately, there is a way to solve your anger and manage it so that you do not hurt the people around you again.
The author, Aaron Karmin, is a clinical therapist and licensed clinical professional counselor with 12 years of experience. Thus, he is experienced in every form and level of mental health. As he knows exactly how to manage anger and reduce stress so that you are able to build up your self-control, self-confidence, and self-esteem.
In this anger management book, Karmin includes several clinically proven and tested strategies for remaining calm. An ideal feature included in this book is the exercises that you need to answer. The book acts like a journal that helps you organize your thoughts and through this, you can instill calmness and manage your anger.
Karmin explains how to find the source of your anger by using assessments that may apply to you. How to express anger in a calm and rational way that would not hurt the person you are speaking to and how exactly you should be managing your anger. By knowing the cause of your anger, you can further understand yourself and why you react to a certain situation with anger.
This is a positive and highly-productive anger management book with all the strategies you'll need to remain calm and nurture a very important relationship with yourself. By managing your anger with these strategies, you can build your self-control and confidence back up the right way and make it last long-term. This is certainly among the best anger management books, especially for men.
This is a highly recommended anger management book for any woman who is struggling with conflict in a relationship or dealing with a difficult marriage. Most of the time, we are either venting or concealing our anger, but what if you could diminish it and remain calm? Our anger should not be ignored. Instead, it should be addressed, such as all other emotions.
The author, Harriet Lerner Ph.D., is a world-renowned therapist and relationship expert who specializes in women's psychology and family relationships. In this book, she explains how to use special techniques to find and understand the source of your anger.
She emphasizes that by figuring out the root of the problem, you can find better solutions and learn to create change that lasts. Lerner says, "Anger is a signal and one worth listening to." Your anger should be a priority and by solving it, you can learn how to forgive and resolve the conflict in your relationships.
Lerner wants to reshape lives. While at the same time, improving people's relationships with their families. Take it from a relationship expert, as long as you follow her strategies, you can make great changes and improve your relationship with the people around you whether you are a man or a woman.
Julie Catalano is a licensed clinical social worker and therapist whose specialty is to help women manage their anger management issues. She shares stories of how women successfully conquered their anger issues with her help. This book includes a 5-step management plan that was developed to help people understand where their anger is coming from.
Catalano is always updated with the latest research. She explains the strategies and techniques that can be done in handling anger and the negative emotions that result from it. Thus, worksheets and exercises are also included to aid in evaluating negative behavior patterns to see how the mind responds to anger.
The use of the method called "FADE" changes both mental and physical reactions. This is one of the best anger management books for women. It is a great tool that can help support and empower women in order to live happier and peaceful life. By learning how to control anger and all other negative aspects that surround it.
Image source: Media